All the information you need as you prepare to become a BCHS Trojan!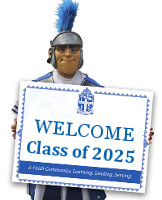 Welcome to Bishop Chatard High School! We are looking forward to welcoming you as a member of the Trojan Class of 2025.
During the spring, summer and into early fall, this webpage will provide important announcements and information you will need as you begin your high school career. Please check back frequently.
Send a photo of you holding your admissions certificate and we'll add it to this webpage! Please include the student's name. Send to communications@BishopChatard.org
---
Registration deadlines and course registration is now officially over, but applications are always accepted. Please contact Jenny Annee, jannee@bishopchatard.org with any questions.
Check back to this Class of 2025 page often for information about upcoming events, news and general information. This is your spot for info until school begins in August.
This summer school class is a great way to earn a credit to open space in your schedule for other courses over your high school career.
BCHS will offer Health Class during the summer 2021. One credit hour is earned for the course. Cost is $200. Classes run Monday to Friday, from June 2 – 22 from 8:00 to 11:30 a.m.
The intent is to conduct this course in-person on the Bishop Chatard campus. All Marion County Health Department COVID-19 directives will be followed. In-person instruction is subject to change.
Course Description and Summer School Expectations
Technology Responsible Use Policy
Register for Summer School
Students interested in testing out of various courses before they begin BCHS can take our Proficiency Tests early this summer.
Students will take the proficiency tests at home and need access to a computer, laptop, iPad for the test. Specific directions to log into Canvas, our learning management system, will be emailed to students closer to the test date. A practice test will be available for students to try ahead of the proficiency test.
Algebra I: Tuesday – June 1, 2021 – 10:00 a.m. – Noon
Spanish I or Latin I: Tuesday – June 1, 2021 – 1:00 p.m. – 3:00 p.m.
Geometry: By appointment only. Please register online, then contact Mrs. Brogan at bbrogan@bishopchatard.org to set up the appointment. The Geometry proficiency test is only for students who have taken a full year of Geometry at the high school level in 8th grade.
Register Here
Questions? Contact Beth Brogan at bbrogan@bishopchatard.org
Bishop Chatard Summer Math Academy is a one week intensive course taught by BCHS math teachers. The designed purpose of this academy is to prepare students for success in high school level math by working on foundational mathematical elements essential to Algebra 1. Cost is $50/student.
View Details and Registration
Your deposit is made, you've registered for Freshman courses. Do you still have questions? Give the enrollment staff a call. If you have any questions about your financial aid, contact the Business Office for clarification.
Check back to this Class of 2024 page often for information about upcoming events, news and general information. This is your spot for info until school begins in August.
---
Looking Ahead
Don't forget to check the 'Sports' tab on this page for current sports news. Just posted there: Cheerleading Clinic and Tryouts: May 12-14.
Used Uniform Sale — Date TBD
Freshman Parent Meeting: June 15
Athletic Physical Night: Tentative Date is June 1
---
Freshman Parent Meeting: June 15
Don't miss this important Class of 2025 Freshman Parent Meeting on Tuesday, June 15, 2021, at 6:30 p.m. in the BCHS Varsity Gym. At this meeting, BCHS school leaders will introduce you to some of the individuals who will be instrumental in your child's high school journey, and we will share important information about policies and procedures at Bishop Chatard.
Topics covered include:
Daily drop-off & pick up procedures
School lunch offerings & meal payment
School uniforms
Parent communications; Parent volunteer opportunities
Reporting of student absences, late arrival or early departure; technology policies
Class schedules, school counseling services, extracurricular opportunities
Because we will be in the school building, face masks will be required and social distancing will be observed.
Note: Freshman STUDENT orientation and welcome, where upperclassmen will share "must know" student information and students will have the opportunity to walk their class schedules, will be held at a later date. Watch email annnouncements and this webpage for updates.
---
The School Calendar
Throughout the year, our electronic calendars are the best source for calendar information. Calendars are found under the News & Events section on this website.
Go To Calendars Page
Print a version of the 2021/2022 key dates calendar here.
---
Uniforms
Official school uniforms can be purchased through Schoolbelles (School code: S1664). Schoolbelles shop is temporarily closed as they move to a new location. Uniform sweatshirts can only be purchased through the BCHS Spirit Shoppe, located off of the BCHS cafeteria or via our online store Spirit Shoppe Online
---
Parent Volunteers at BCHS
Many volunteer opportunities are available during school, at extra events or with organizations. The BCHS parent organization, The Trinity Club, organizes volunteers for the school and school events. The Athletic Booster Club, Music Booster Club and Theatre Boosters also have needs throughout the year.
Our online volunteer form for will be posted in early spring.
---
Cheerleading Clinic and Tryouts: May 12-14
Bishop Chatard Cheerleading Clinic and try-outs for the 2021-2022 Cheer Squad are here! Mandatory try-out clinics will be held May 12 & May 13, 2021, from 4:00 - 6:00 p.m. Try-outs will take place on May 14 at 4:00 p.m. All clinics and try-outs will take place in the BC main gym. Please wear cheer shorts, and tee or tank, cheer/tennis shoes, and hair pulled back away from the face in a ponytail or braid.
Try-outs are open to any incoming 9th - 12th graders. Teams will be posted on Monday, May 17, 2021.
If you have any questions please email Coach Kim Reed at kereed78@gmail.com
---
Sports Physical Night: Tentatively scheduled for June 1, 2021
Information and forms for physicals for summer conditioning and any season's sports participation are now available.
BCHS Physical Night has tentatively been scheduled for July 1, 2021. Details will be posted when available.
Read More at BCHS Athletics


Summer Sports Information
Summer sports schedules will be posted in our Athletics area, under the 'Summer'tab, when available. Callouts for fall sports will also be posted here as they become available.
View Summer Conditioning page
---
Freshman Academic Links
Business Office Information
Class of 2025 Future Trojans