All the information you need as you prepare to become a BCHS Trojan!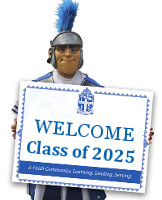 Welcome to Bishop Chatard High School! We are looking forward to welcoming you as a member of the Trojan Class of 2025.
During the spring, summer and into early fall, this webpage will provide important announcements and information you will need as you begin your high school career. Please check back frequently.
Send a photo of you holding your admissions certificate and we'll add it to this webpage! Please include the student's name. Send to communications@BishopChatard.org
---
---
Check back to this Class of 2025 page often for information about upcoming events, news and general information. This is your spot for info until school begins in August.
---
PowerSchool Account Setup
Freshman Parents should have received an email from the BCHS PowerSchool SIS School Messenger program detailing how to setup the Parent Portal in BCHS PowerSchool. This important setup must be completed before 'Back-To-School' registration (that begins July 26) can be opened by you.

Click to Read Important PowerSchool Account Details
The Parent Power School portal gives parents access to student grades, assignments, etc. throughout the year as well as beginning of the year 'Back to School' documents.
All parents must use the Bishop Chatard Power School portal: bishopchatard.powerschool.com.
Elementary PowerSchool accounts and links cannot be used. A specific BCHS account using our portal, access IDs and passwords is required.
Parents will receive the Access ID and Access Password through the July 19 email from the program. (The Parent Access ID will be located in the middle of the page.) Parents new to BCHS need to create a new account and add their students to the account.
Instructions on how to add a student

Returning parents who already have a BCHS parent portal account with upperclassmen need to log in and add any new student who will be attending BCHS, using the Access ID and Access Password that is located in July 19 email.
x

BCHS 'Back to School' registration opens on July 26, to complete documents needed for the school year. These documents need completion by the first day of school. The Parent PowerSchool portal needs to be setup before the 'Back to School' documents can be opened by parents.
Questions? Contact Ame' Alerding at aalerding@bishopchatard.org, beginning July 27.
---
July Financial Aid Appointments
All families new to BCHS in the upcoming year and receiving financial aid are required to make a financial aid appointment, available in July. This appointment will help a new family enroll in tuition/financial aid/vouchers/payment plans. In-person and virtual appointments are available . Scheduling is made through the form below. Questions? Email finaid@bishopchatard.org
New Families receiving aid: Schedule your appointment
Directions for returning families receiving aid
News & Current Events: Found under the 'News' tab, and updated daily, check this page often for the most up-to-date student, parent and event news & announcements
Calendar: Look for the 'Calendar' button on every page to view the most up-to-date calendar online.

Parent Page

:

(www.bishopchatard.org/parents)

: Accessible via the 'Parent' tab from the home page or at the top of any other page, this section displays parent news and contains these quick links to popular topics found throughout our website:
E-Learning Links

(www.bishopchatard.org/academics/elearning)

: Contains information about all BCHS electronic learning software and parent software, iPad info and how to get any tech help (email gethelp@bishopchatard.org)
Your deposit is made, you've registered for Freshman courses. Do you still have questions? Give the enrollment staff a call. If you have any questions about your financial aid, contact the Business Office for clarification.
Check back to this Class of 2024 page often for information about upcoming events, news and general information. This is your spot for info until school begins in August.
---
Looking Ahead
Don't forget to check the 'Sports' tab on this page for current sports news.
Freshman Orientation: August 5
Freshman Parent Coffee: August 5
Back to School Night: August 11
Financial Aid Appointments for new families receiving aid in July
---
Freshman Student Orientation: Thursday, August 5
Read the complete schedule for the day.
Don't forget to bring your completed School Picture Form to Orientation.
---
Join us for a Freshman Parent Coffee: August 5
After dropping off your freshman at Orientation, join members of the Bishop Chatard Trinity (parent) Club for a cup of coffee, breakfast pastry, and an opportunity to meet other parents of the Class of 2025.
After dropping your student at Door #10, drive around and park in the southeast area of the parking lot. We'll meet in the Stadium Concession Stand Plaza. We look forward to celebrating the beginning of your child's high school career at BCHS!
---
Band Member News
For those who are taking a band class: Welcome to BCHS Music! Visit the Music Page for information needed for the upcoming school year. It's not too late to signup!
---
Free Lunch and Breakfast for Everyone in 2021-22
Visit www.bishopchatard.org/menus for details.
---
Parent Resources from the June Parent Meeting
Meet the Staff and see topics that were covered in the meeting
Technology/iPad FAQs covered in the meeting (pdf)
---
The School Calendar
Throughout the year, our electronic calendars are the best source for calendar information. Calendars are found under the News & Events section on this website.
Go To Calendars Page
Print a version of the 2021/2022 key dates calendar here.
---
Uniforms
Official school uniforms can be purchased through Schoolbelles (School code: S1664). Schoolbelles Uniform store is open at a new location: 6315 N. Keystone. The Uniform Approved 1/4 zip Sweatshirt and the Uniform Approved Crewneck Sweatshirt can only be purchased through the BCHS Spirit Shoppe, located off of the BCHS cafeteria or via our online store Spirit Shoppe Online
---
Parent Volunteers at BCHS
Many volunteer opportunities are available during school, at extra events or with organizations. The BCHS parent organization, The Trinity Club, organizes volunteers for the school and school events. The Athletic Booster Club, Music Booster Club and Theatre Boosters also have needs throughout the year.
Volunteer Here
---
Freshman Academic Links
Business Office Information
Class of 2025 Trojans