What you need to know as you become a BCHS Trojan!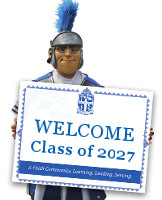 Welcome to Bishop Chatard High School! We are looking forward to welcoming you as a member of the Trojan Class of 2027.
During the spring, summer and into early fall, this webpage will provide important announcements and information needed as you begin your high school career. Please check back frequently.
Send a photo of you holding your admissions certificate and we'll add it to this webpage! Please include the student's name. Send to admissions@bishopchatard.org

You've received your acceptance packet in the mail and have made the decision to start your journey as a BCHS Trojan. What's next?
Step 1: Send in Your Registration Form
Let us know your intention to attend BCHS as part of the Class of 2027 by completing and returning the Registration Form, found in your acceptance packet mailed in early February. Deadline for this form is February 28, 2023.
Step 2: Make your Registration Deposit
The deposit of $350/student or $500 for a family of 2 students or more is also required as part of confirming your student's intention to attend BCHS. This is also due by Feb. 28, 2023.

Please remit your payment along with your completed Registration Form.
After we receive your payment, we will email you that we have opened up Course Registration Appointments for you.

Your tuition deposit ($350/student, $500/family) will be automatically withdrawn from your BCHS FACTS account on February 28, 2023. 
All you need to do is return the Registration Form found in your Acceptance Packet by February 28 to let us know you are coming. After we receive your form, we will email you that we have opened up Course Registration Appointments for you.
If you do not want this automatic FACTS transaction, contact Karen Feeney, Tuition Manager, at tuition@bishopchatard.org to stop the withdrawal. If you stop this special withdrawal, you still need to pay your deposit via cash or check by the February 28 due date.
Step 3: Make your Course Registration Appointment
In this meeting, students together with their parents/guardians will have the chance to register for 2023/2024 Freshman courses under the guidance of one of our School Counselors.
Starting in mid-February, we will begin emailing appointment information to those who have returned BOTH their registration form and made their payment deposit. Appointments are available from March 14-16.
Step 4: Prepare for your Registration Appointment
Before you meet with a counselor to select your Freshman courses:
Watch our Registration video for a great overview of what to expect during your course registration appointment.
Use the Registration Worksheet to guide your thoughts. BCHS Counselors will guide you through the registration process at your meeting
Questions? Don't hesitate to contact Karen Aruta, Enrollment Manager, at karuta@bishopchatard.org or 317-251-1451, Ext. 2234. If you have any questions about your financial aid, contact the Business Office for clarification.
Visit the Spirit Shop while you are here!
The Spirit Shop will be open during the week of Freshman Registration. Stop by the shop, located in the basement next to the concession stand and cafeteria entrance, at our special hours:
March 14 & 16 (Tu/Th) – 8 a.m. – 8 p.m.
March 15 (W) – 8 a.m. – 4:30 p.m.
March 17 (F) – 11:30 a.m.- 1:30 p.m.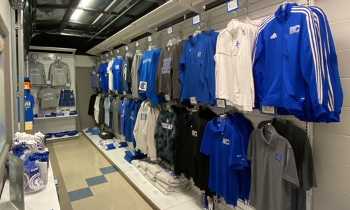 BCHS will offer Health Class during the summer 2023. One credit hour is earned for the course. This summer school class is a great way to earn a credit to open space in a schedule for other courses over your student's high school career. Cost is $200. Classes run Monday to Friday, from June 5 – 23 from 8:00 to 11:30 a.m.
This course is conducted in-person on the Bishop Chatard campus. Registration is due by May 2.
Course Description and Summer School Expectations
Technology Responsible Use Policy
Questions? Contact Julia Hasbrook, Director of Academics, via email at jhasbrook@bishopchatard.org or via phone at 251-1451 ext. 2280
Register for Summer School
Incoming Class of 2027 freshmen can take a proficiency test in Algebra, Geometry, Spanish or Latin to determine their level of mastery in these subjects. Tests are free and last one hour. They will be administered at BCHS, beginning at
noon
as follows:
Tuesday, June 6: Algebra
Wednesday, June 7: Geometry
Thursday, June 8: Spanish or Latin
All tests will be taken via the school iPads. If your child is taking Health in summer school, they will use their issued iPad. Students not having that iPad will be given one and should arrive 15 minutes early to get setup. A monitored lunch period is available for those taking health (11:30 – 11:55 – please bring your own sack lunch). If a student has an education plan on file with Mrs. Brogan, accommodations will be programmed for those individual exams.
Open Registration Form
Questions? Contact Monica Helfrich, Director of Counseling, at mhelfrich@bishopchatard.org
Bishop Chatard Summer Math Academy is a two week intensive course taught by BCHS math teachers. The designed purpose of this academy is to prepare students for success in high school level math by working on foundational mathematical elements essential to Algebra 1. Cost is $50/student.
Cost: $50
Monday – Thursday: July 10-13 and July 17-20
9:00 a.m. – Noon each day
Additional information, and registration for the Bishop Chatard Math Academy, will be available at the individual student's course registration meeting in March.
Register here
Questions? Contact Julia Hasbrook, Director of Academics, at jhasbrook@bishopchatard.org or feel free to call at 317-251-1451, Ext. 2280.
Immunization records need to be up-to-date by the beginning of the school year, August 2023. Documents can be emailed to nurses@bishopchatard.org
Official school uniforms can be purchased through Schoolbelles (School code: S1664), online or through their store at 6315 N. Keystone Ave.
BCHS often has a used uniform sale in late May/early June. Watch this space for details.
BCHS Uniform Sweatshirts are only available through the BCHS Spirit Shop
The approved uniform sweatshirts, 1/4 zip or crewneck, can only be purchased through the BCHS Spirit Shop, located by the concession stand downstairs near the cafeteria, or through the online Spirit Shop.
Open Online Spirit Shop
These are the only school-approved sweatshirts that can be worn during school.
The School Calendar
Throughout the year, our electronic calendars are the best source for calendar information. Calendars are found under the News & Events section on this website.
Go To Calendars Page
View the 2023/2024 key dates calendar (pdf).
---
---
Volunteering at BCHS
Many volunteer opportunities are available during school, at extra events or with organizations. The BCHS parent organization, The Trinity Club, organizes volunteers for the school and school events. The Athletic Booster Club, Music Booster Club and Theatre Boosters also have needs throughout the year.
Check back in late spring for our online signup sheet.

Don't forget to check the Sports tab on this page for the latest news from the Athletics Department for incoming freshmen.
---
Check this space for ongoing sport callouts (some in late spring) as well as summer conditioning items.
Summer Moratorium Weeks
During these 2 weeks in the summer, all athletic activity halts. IHSAA mandates one and BCHS adds another. The 2023 Summer Moratorium dates are:
IHSAA Moratorium: July 1 – July 9
BCHS Moratorium: July 22 – July 30
---
BCHS Sports Physicals
Each student needs to have an IHSAA physical and completed forms on file before participating in any conditioning, tryouts and team participation, during the summer or the school year.
IHSAA physicals can be completed on April 1, 2023 or later to be active for the entire 2023-2024 school year.

Information about 2023/24 physicals and other required forms will be posted here after April 1.
---
Summer Sports Conditioning & Activities
Watch this space for information that we have concerning callouts and any summer conditioning schedules.
If you have any questions, don't hesitate to contact the coaches with your questions.
Our 'Summer Conditioning' page will collect the info we have and also includes contact information for the coaches.
Go to the Summer Conditioning Page
---
Business Office Information
Class of 2027 Trojans
Send a photo of you holding your admissions certificate and we'll add it to this webpage! Please include the student's name. Send to admissions@bishopchatard.org