In the spring 2020, as we moved deeper into the COVID-19 crisis, current BCHS families were among those affected by job loss, layoffs and other financial hardships.
In response to this crisis, BCHS changed our traditional Trojan Day of Giving to 'Trojans Helping Trojans' Emergency Relief, a fund-a-need effort to build an emergency relief fund for BCHS families suffering at this time. Every dollar donated directly benefits these families and allow them to continue their children's education at Bishop Chatard.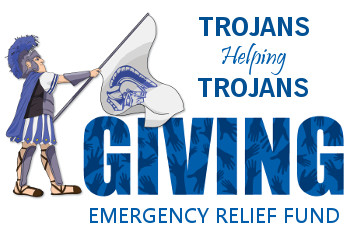 Won't you help them? Any donation, no matter the size, will be appreciated.
Make Your Donation Today
---
Thank you to our donors!
Over $45,000 has been raised by the people listed below to support BCHS parents during this crisis.
Tom & Suzanne Lewis
Rose Feeney '79
Brian & Jeannie Zurawski
Martha McCurdy
Al & Denise Hirt
Elizabeth Hansen '69
James & Madelaine Krolik
Todd & Megan Kalesperis
Rob & Maggie Albright
Eric & Lisa Johnson
Dave & Sue Schnieders
Jonathan & Margaret Ruffing
Carl and Catherine '99 Ruffing Drotleff
Mark '89 & Amy Bridenstine
John & Julie (Goebel) '88 Nagel
James '65 & Patricia Quatman
Elizabeth Assalley
Aiden Duncan '23
Kevin Schaefer
Maria Walsh
Adam & Meri Weber
Michael & Amy Borchers
Mark & Jessica McAllister
Robert & Annelise (Vaughn) '98 Haag
John & Mary Helen (Lyons) '65 Quinn
Dave Schapker
Rob & Libby (Akin) '78 Doyle
Jody Brezette '06
David & Cathy Siler
Tim & Susan Lacy
Bill & Debbie Sahm
Annette Hall
Danny & Jennifer Feeney
Mike & Melissa Mates
James & Teresa (Weaver) '77 McLaughlin
Gregg & Cindy Wallander
Rich & Mary McGillicuddy
Clark & Sally Millman
Michael & Sarah Bardol
Kyle Fairchild '04
Larry & Nancy O'Bryan
Jorge '68 & Kandice Llera
Caroline (Quatman) '91 Miller
Mark '91 & Meg Linden
David '71 & Mary McFarren
Bob McLain
Tom & Sis Adkins
Kevin & Lisa Doyle
Shannon & Heather Bosley
Tom & Elisabeth Groot
Anne Lyons
Judy Bosshart
Michael Cyganowski
John & Theresa Chaniga
Kamilla Benko '08
John Sullivan '81
Chris '81 & Anita Wallis
Joe '86 & Nichole Copple
Jim '88 & Jenny (Wolf) '88 Drew
Brad & Eileen (Powell) '90 Countryman
Lucas & Susan (Johnson) '00 Johns
Connie Heneghan
Joseph Clark '68
Jan (Breiner) '69 Frazier
Thomas & Christy (Schimschock) '68 Wright
Greg '72 & Donna Kay Mark
John '65 & June Haskin
Bill '76 & Cokie (O'Brien) '75 Scheidler
Tom Miller
Dan & Marilynn Fagan & Family
Kevin '83 & Rita O'Hara
Jake Miller '11
Kevin & Liz Sowinski
Joe & Amy Schaffer
Kyung Jin Lee '14
Rick & Shelly Penny
Joseph & Melinda Rivelli
Ted & Katie Kolbus
Jody Pruitt
Hugh & Renae Stoudt
James & Nina Meyer
Adrienne Cohoat
Tony & Kirsten Felts
John & Christine McHugh
Michael & Polly Reynolds
Mark & Amy Taylor
JB & Mary Kay Hudson
Kriss Anderson & Adrienne Quill
Mike '76 & Elaine Ford
Peter '85 & Jenny Forsee
Chuck '88 & Maria Harr
Andy & Jill Manchir
Maria Walsh
John & Dee Szott
Michael & Jeanne (Capone) '82 Agostino
Dale & Maria Knight
Lonnie & Cara Lynn Chamberlain
Anonymous
Keith & Pam Martin
Damian & Morgan Schmitt
Thomas '72 & Sharon Sullivan
John & Kim Shaw
Brian & Laura Falcon
Ryan Eads & Michelle Ruppel
Dr. & Cherie Foley
Scott & Amy Treida
Lisa Spalding
Jim & Victoria Zink
Tom & Elizabeth O'Gara
Jim & Carol Joven
Tim & Rebecca Boyle
Andy & Carmen Teed
Barb Gaffney
John '91 & Paula Ryan
Rob & Julie (Church) '88 Pruitt
Shawn '82 & Joanne (Boyle) '83 Keating
Jeff & Michelle Wuensch
Marshall & Karen Parker
James & Mary Kay Hudson
John & Suzanna Annakin
Bruce & Marilyn Bubenzer
Ken & Cathleen Scheer
Steve & Debbie Ruberg
Charles '76 & Karen Feeney
Mike & Heather McGinley
Richard & Sandra (Robinson) '69 Fields
Michael '69 & Clare Duane
Kurt '86 & Danica Hostettler
Glenn '84 & Cindy Harkness
Anonymous
Debra George
Dan & Judy Morris
Chloe Fellwock '18
Rusty & Vickie Wann
Deegan Atha '13
Joe '69 & Cathy Ford
Thomas & Gayle Mass
Tyler & Allison (Mark) '00 Mayer
Kevin Heneghan '89
Mark '67 & Janet Laurent
Mark '87 & Dawn (Wiltshire) '89 Koers
John '76 & Nancy (Akin) '76 Dury
The Stonner Family
Bruce & Katie Klineman
Kathryn Janssen
James & Mary Ann O'Brien
Kenzie & Denise Kelly
Brian & Nicole Duncan
Geoff Thompson & Jennifer Wood-Thompson
Kriss Anderson & Adrienne Quill
Jonathon & Jennifer Wright
Rachel Gibson
Susan Howell
Mary Ann Waldron
Mark & Sandi Carter
John & Christel Didat
Bud & Peg Doyle
Joe & Gina Hansen
Bob & Mimi Dickey
Grantland Clapacs & Marla Smith
Brigid O'Brien
Ross & Pam Nixon
Charlie & Julie Revard
Mike & Kelly Caskey
Jacquie Berry
William & Sherry Monachino
Bob & Michelle Kowal
Amy Horlander Barry
Kelli Tromiczak
Gary & Sandy deCastro
Dan & Betsy Babcock & Family
Todd & Sharon Shickel
Scott & Cathy Nickerson
Adri Zermeno '11
Barry & Monica (Ruberg) '04 Helfrich
Joe & Jenny Annee
David & Marijane Wilkerson
Susan (Fox) '69 Pattee
Michael & Mary Ellen Ball
Catherine Welch
Ed & Eileen Johnstone
Deacon Rick '78 & Carol (Lyons) '78 Wagner
Paul '65 & Alice Hayes
Alan & Ruth Roell
Mary Donnelly
Jim & Kathie Church
Bob '03 & Megan Schaffner
Dan Kavanaugh '03
Brad & Eileen (Powell) '90 Countryman
Steve & Cathe (Sherlock) '67 Fulcher
Cheryl (Johnston) '82 Huffine
Ahmed & Jamie (Doyle) '82 Ismail
Joan (Patterman) '66 Barrett
David '76 & Michele Dessauer
Tim Spreitzer '74
Bryan & Jen Smith
Adam & Molly (McGlinchey) Clauss '09
John '08 & Caroline (Schutzman) '08 Dury
Steve & Kimberly Smith
Jack & Candice Mees
Tony & Carole Watt
Allison Kenney '06
Josh & Katie Schaffner
---
Dear Bishop Chatard family and friends,
As we move deeper into this period of response to our nation's public health crisis, it has come to our attention that members of our Bishop Chatard school community are among those experiencing economic hardship through job loss, furloughing or reduction in salary/wages. It is our intention to support these families in any way we can, and we are looking to you to help us respond to their needs.
In response to this crisis, we are changing our traditional Trojan Day of Giving to Trojans Helping Trojans Emergency Relief, a week-long fund-a-need effort to build an emergency relief fund for Bishop Chatard families directly suffering from a loss of income due to COVID-19. Every dollar donated will directly benefit these families and allow them to continue their children's education at Bishop Chatard.
Since transitioning to an eLearning model on March 16, Bishop Chatard has continued to work hard to provide the high level of academic instruction and virtual student life activities that are an integral part of our mission to form the whole person. It is remarkable to witness the creative and determined efforts of our faculty, staff, coaches and administration working diligently to keep a semblance of normalcy in our students' lives.
I believe that this challenging time in our world is a God-given opportunity to deepen our faith and our love for each other, including the most vulnerable within our own school community. Please consider a gift that will assist our families in need, and we ask you to pray for all of us tasked with serving the remarkable school community we know as Bishop Chatard High School. We continue to offer our thanks and prayers for all of you and your well-being, staying safe in Our Lord's tender care.
God bless you,
Bill Sahm, President

#TrojansHelpingTrojans