Your journey begins here...
Welcome to Bishop Chatard's virtual student journey! Explore this page to learn more about the Archdiocese of Indianapolis North Deanery Catholic high school. We look forward to talking with you about the outstanding academic programs and unique faith formation and extracurricular experiences that await you as a Bishop Chatard Trojan.
Develop your mind. Deepen your faith. Discover yourself.
Leadership Development
235 Students Volunteer as Bishop Chatard Ambassadors
College Preparation
$24.4 Million in Scholarships and Grants were Earned by the Class of 2023
Athletic Commitment
108 Trojans were Named Academic All-State in 2022-2023
Student Life
89% of Students are Active in Clubs and Sports
Faith Formation
95% of BCHS Students Participate in Class Spiritual Retreats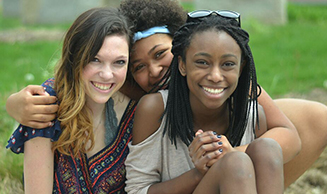 Student Diversity
Minority Students Represent 21% of the BCHS Student Body
Archdiocesan Support
BCHS is the North Deanery High School of the Archdiocese of Indianapolis
Bishop Chatard students are supported by over 50 years of history and tradition. Committed to our role as the Archdiocese of Indianapolis North Deanery high school, it remains our mission to serve all students who seek a Catholic education. We achieve that by maintaining an inclusive learning environment that offers innovative programs – including almost 50 honors and AP & Dual Credit courses, along with a robust Academic Support Program – that narrow learning gaps.
Faith
Bishop Chatard has a culture focused on faith formation and servant leadership that permeates everything we do.
All-school Mass is celebrated each week
Students log over 13,000 service hours annually and can participate in school-sponsored Christian service immersion trips
Bishop Chatards's curriculum includes four years of Theology coursework
Academics
Bishop Chatard offers a challenging academic program, recognized as exceptional.
11:1 Student-to-teacher ratio
74% of 2023 graduates earned Academic Honors diplomas
BCHS received Indiana's Advanced Placement Achievement Award, placing in the top 3% of Indiana high schools.
Athletics
Bishop Chatard fosters an inclusive athletic program encouraging all students to challenge themselves physically, as well as academically.
Bishop Chatard supports 23 athletic teams
77% of the student body participates in team sports
Trojans have won 18 IHSAA state championships
Clubs &
Student Life
Bishop Chatard believes that each individual has infinite value and welcomes a diverse group of students, providing extracurricular activities that appeal to all.
89% of students participate in extracurricular clubs or activities
Over 35 clubs sponsor numerous student activities and engagement opportunities
Student leadership opportunities offered in Student Council, Peer Ministry and Ambassador programs
My time at Bishop Chatard has provided an environment for my faith to grow surrounded by the support of my peers and faculty. BCHS has challenged me to own my faith and make it a personal connection with Christ, rather than an idea that I say I align with.
I have learned that as followers of Christ, we are called to not only witness the image and likeness of God in others, but act on this belief in a way that serves others. In my service-related experiences I have come to better understand how fulfilling it is to give back to my community.