8 Steps to Enrollment
Bishop Chatard High School offers many opportunities to become acquainted with the school, talk with teachers and administrators, and experience life as a Bishop Chatard Trojan.
Follow our 8 steps below on the road to becoming a Bishop Chatard student.
Enrollment/Course Guide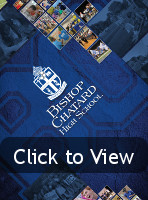 Click here for pdf version

Student Shadowing Days
Shadowing at Bishop Chatard allows 8th grade students to participate in a regular school day and get a glimpse of what their own high school experience could be. All eighth-grade students are encouraged to shadow. Being a Trojan for a Day provides the student an insight as to why our students become Trojans for Life!
When: Selected dates from September through February
Details and Shadow Day Signup
---

Wednesday Walk-Thrus
Parents are invited to attend one of these Wednesday sessions, which include a brief administrator presentation, a tour of the school while it is in session, and the opportunity to ask questions.
When: Various Wednesdays from September through February
Wednesday Walk-thrus details and signup
---

Trojan Tour Open House
Prospective families are invited to explore Bishop Chatard at our Trojan Tour evening. Participants can tour the school with a current student, talk with teachers and administrators, and learn about the exciting academic and extracurricular programs available to students.
Thursday, November 3, 2022
Read more about the Open House
---

Placement Test
All students applying for admission to Bishop Chatard must take the High School Placement Test. We offer the test once in the Fall and coordinate all tests taken at the North Deanery grade schools.
When: November 19, 2022 at BCHS; also various dates at North Deanery schools for their students
View Placement Test location, date and registration
---

Apply to Bishop Chatard
Submit an application and the required documents to begin the process of enrollment at Bishop Chatard.
Class of 2027 Deadline: December 15, 2022
How To Apply
---

Apply for Financial Aid (if applicable)
Bishop Chatard accepts both the Indiana School Choice Scholarships (vouchers) and Tax Credit Scholarships (TCS). We can also provide direct financial aid and student work-study opportunities for families who do not qualify for those programs, and additional aid to those who do qualify.
Class of 2027 Deadline: December 15, 2022
How to Apply for Financial Aid
Financial Aid Information Night
When: November 16, 2022
Financial Aid Info Night details
---

One-to-One Appointment
For a more personal experience, prospective families are invited to schedule an appointment to meet during the school day with a school administrator. These appointments allow families to have a one-on-one discussion with a member of the enrollment team to ask additional questions as needed and tour the campus.
Individual Appointment details
---

Registration for Enrollment
Early February is an exciting time for prospective students as our acceptance packet arrives in the mail in the form of our 'Big Blue Envelope'. This welcomes our new student to the BCHS family. Enrollment instructions are also enclosed.
February 2023: Class of 2027 acceptances will be mailed.
February 28, 2023: Tuition deposits are due for members of the Class of 2027.
---
---
Enrollment Process if you are a transfer student