Reporting a Student Absence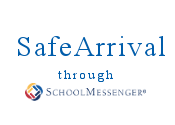 If a student is absent from school because of illness or an emergency, a parent/guardian is required to notify the school office before 8 a.m. on the day the student is not in school. Parents will be notified by 10 a.m. if their student is not present and we have not received notification.
BCHS offers three convenient ways for a parent to report absences, late arrivals or early departures: by phone, through the SchoolMessenger website, or using the SchoolMessenger app.
Absences due to COVID
If you are reporting a student who will be absent due to a positive COVID test, please email medical@bishopchatard.org. For positive home COVID-19 tests, please label the test with student's name, date test was taken and take a photo of it. Email that photo. (View complete COVID policy here).
For all other absences, please use the SafeArrival process stated below.
How to Report an Absence
Report Online
Go to go.schoolmessenger.com
You will initially need to set up an account using the same email address that you have provided in PowerSchool.
Use the School Messenger app — Preferred Method
The School Messenger app is available in iOS and Android versions in the app store or from links at go.schoolmessenger.com.
You will initially need to set up an account using the same email address that you have provided in PowerSchool.
If you have an incoming freshman and your family has an existing account, at the beginning of the school year, you will need to launch the app and refresh your contacts (found in Settings). This will add your freshman to your family's SchoolMessenger account.
Toll-free Phone
Call 1-844-793-0415. (New Number for 2023)
Be sure to press 1 in the mention of options provided when calling in an absence due to illness, late arrival or leaving early.


When you call the toll-free phone line, follow the instructions for reporting an absence.

If the phone number you are calling from matches a phone number on file with the school for your
student(s), you will hear your student'(s) name(s). If the system doesn't recognize your caller ID, you will be asked to enter the student's home phone number.

If you have difficulty using the toll-free phone line, please consider using the SchoolMessenger mobile app or website. Otherwise, contact the school directly.
View FAQs about SafeArrival (pdf)
View Absence Policy in the Student Handbook