Upcoming Events
June 25, 2018

BCHS Summer Camps

June 25, 2018


Summer School

June 25, 2018; 8:00 am - 11:30 am


June 26, 2018

BCHS Summer Camps

June 26, 2018


Summer School

June 26, 2018; 8:00 am - 11:30 am


June 27, 2018

BCHS Summer Camps

June 27, 2018


June 28, 2018

BCHS Summer Camps

June 28, 2018


June 29, 2018

BCHS Summer Camp

June 29, 2018


June 30, 2018

IHSAA Moratorium

June 30, 2018 - July 8, 2018;


July 1, 2018

IHSAA Moratorium

June 30, 2018 - July 8, 2018;


Nazareth Farm

July 1, 2018 - July 7, 2018;


July 2, 2018

Nazareth Farm

July 1, 2018 - July 7, 2018;


IHSAA Moratorium

June 30, 2018 - July 8, 2018;


July 3, 2018

Nazareth Farm

July 1, 2018 - July 7, 2018;


IHSAA Moratorium

June 30, 2018 - July 8, 2018;


July 4, 2018

Nazareth Farm

July 1, 2018 - July 7, 2018;


IHSAA Moratorium

June 30, 2018 - July 8, 2018;


July 5, 2018

Nazareth Farm

July 1, 2018 - July 7, 2018;


IHSAA Moratorium

June 30, 2018 - July 8, 2018;


July 6, 2018

Nazareth Farm

July 1, 2018 - July 7, 2018;


IHSAA Moratorium

June 30, 2018 - July 8, 2018;


July 7, 2018

Nazareth Farm

July 1, 2018 - July 7, 2018;


IHSAA Moratorium

June 30, 2018 - July 8, 2018;


July 8, 2018

IHSAA Moratorium

June 30, 2018 - July 8, 2018;


July 14, 2018

July 16, 2018

CYO Grasshopper Camp

July 16, 2018 - July 20, 2018;


July 17, 2018

CYO Grasshopper Camp

July 16, 2018 - July 20, 2018;


July 18, 2018

CYO Grasshopper Camp

July 16, 2018 - July 20, 2018;


July 19, 2018

CYO Grasshopper Camp

July 16, 2018 - July 20, 2018;


July 20, 2018

CYO Grasshopper Camp

July 16, 2018 - July 20, 2018;


July 21, 2018

BCHS Moratorium

July 21, 2018 - July 29, 2018;


July 22, 2018

BCHS Moratorium

July 21, 2018 - July 29, 2018;


July 23, 2018

BCHS Moratorium

July 21, 2018 - July 29, 2018;

Trinity Parent Club

Bishop Chatard's Trinity Parent Club is the school's parent service organization, providing volunteers for many of the Bishop Chatard school and community events. Involvement in the Trinity Parent Club enables parents to stay actively involved in the lives of students while providing an invaluable resource to the Bishop Chatard School community. In the process, friendships are made and bonds are created that last well beyond your children's high school years!
Learn more about the Trinity Parent Club
Business Office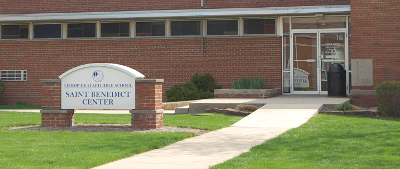 The business functions of Bishop Chatard High School, including tuition and financial aid, are managed by business office personnel.
The Bishop Chatard Business Office is located in the St. Benedict Center, located at the south end of the Bishop Chatard campus. Entrance to this building faces Crittenden Ave.
How Do I Make Tuition Payments?
Bishop Chatard offers parents several tuition payment options and plans. Payments can be made through FACTS, by cash or check.
---
How Do I Apply For Financial Aid?
Families seeking financial aid from Bishop Chatard are required to submit a BCHS financial aid application through FACTS to begin the process. All families who receive a BCHS financial aid award must also complete applications for Indiana Choice Scholarship (vouchers) and tax credit scholarships (SGOs).
---