Trojan Camps & Clinics
Throughout the school year, Bishop Chatard offers athletic and enrichment camps and clinics to grade-school and middle-school students.
---
2021 Summer Camps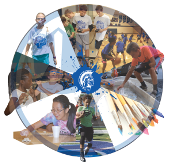 Bishop Chatard High School is excited to announce our 2021 Summer Athletic and Enrichment Camp Program, hosted on campus in June 2021! We look forward to inviting grade and middle school students to BCHS to learn new skills and enjoy some summer fun.
The 2021 camp schedule is now posted!
Go to 2021 Summer Camps
Questions? Contact Maureen Malarney at summercamp@bishopchatard.org
---
Football Summer Position Camp: July 12 - 14
Join us for a dynamic football camp for quarterbacks, receivers, offensive linemen, defensive lineman, and defensive secondary. Our camp is designed for 5-8 graders to provide position-specific college-level instruction. Choose between Passing Camp or Lineman Camp. Both camps will be held on July 12 - 14, 2021, from 9:00 a.m. - 10:30 a.m. Cost is $50/camper.
Register for Football Position Camp
Campers should bring cleats, their own water bottle and wear appropriate workout clothes.
Please observe COVID protocols for attendance, including wearing a mask. We will adhere to all COVID protocols when not competing.
About the Camp
Campers will learn proper fundamentals, footwork drills, strategy, and techniques to carry them into the 2021 season and beyond. The camp will be run by Bishop Chatard coaches who have coached Bishop Chatard to back-to-back state championships. Our goal is to help train great players and great young men of character. Over the past 4 years our players have accomplished a great many things. Last year we had 16 academic all-state players, 2nd only to 6A Center Grove, and we have had at least 11 players honored as academic all state each of the last 4 years. During this time our players earned 3 all-state QB selections, 4 all city selections, and 4 all conference selections. They have thrown for over 10,000 yards and over 100 touchdowns while completing almost 70% of their passes. Our Offensive line has led us to over 2,000 yards rushing each of the last 4 years. During this time our receivers have earned 2 all state selections, 4 all city selections and 4 all conference selections. Our offensive linemen have earned 4 all state selections, 6 all city selections and 10 all conference selections. Our D-line has earned 4 all city selections, and 5 all conference selections, and our defensive secondary has produced 2 all state players, 3 all city players and 6 all conference selections. At Bishop Chatard we strive for excellence in the classroom and on the field. Join us as we put our campers through the same instruction our Bishop Chatard players receive every day.