Trojan Camps & Clinics
Throughout the school year, Bishop Chatard offers athletic and enrichment camps and clinics to grade-school and middle-school students.

Softball Winter Camp for grade school: Feb. 29
All softball players, grades 1 - 8, are invited to the 2020 BCHS Winter Softball Camp on Sat., Feb. 29, at BCHS. It's a great way to meet future Trojans, while improving on the game we all love!
6-8 Grade North Deanery Girls Basketball Workouts
All North Deanery Girls Basketball players, grades 6-8, are invited to our North Deanery Spring Workouts, from March 3 to April 29, 2020 in the BCHS gym. Sessions are free. No registration is needed. Come to one or all!
Experience Summer Camps at Bishop Chatard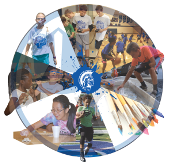 Bishop Chatard High School offers a variety of camps that encourage 1st through 8th grade students to explore new interests, challenge their imaginations and hone current skills. Athletic and enrichment camps appeal to students interested in theatre, technology, music, sports, community service, art and more.
Half and full-day camps are available, or your child may bring a lunch and experience different camps in our morning and afternoon sessions. Early-bird and multiple-camp discounts are available on many camps. Plan to register early – many camps reach capacity quickly!
2020 Summer Camp registration opened Jan. 27.
Details and Registration
CYO Co-Ed Futsal Tourney: March 21
BCHS soccer invites CYO soccer players, boys or girls, grades 5-8, to our Futsal Tournament hosted at BCHS on Saturday, March 21, 2020.
---
Future Trojan Pass
All North Deanery students receive a Bishop Chatard Future Trojan Pass, providing free admittance to Bishop Chatard drama productions, concerts and home athletic events at the North Deanery high school! (Details are printed on the pass.) The passes are distributed by each North Deanery School.
For details, or if you need to obtain a Future Trojan pass, contact Kelly Lucas, Director of Marketing and Communications, at klucas@bishopchatard.org.
Visit Athletics to view the sports schedules.
Visit Theatre for performance information.
Visit Band & Choir for concert information.
---