Trojan Camps & Clinics
Throughout the school year, Bishop Chatard offers athletic and enrichment camps and clinics to grade-school and middle-school students. Information about them will be posted here.

CYO Football Night: Oct. 1
CYO Football players are invited to join the Bishop Chatard Trojans for CYO Night on Friday, Oct. 1, 2021. Students are invited to wear their team jerseys or a Bishop Chatard or grade/middle school t-shirt and present their Future Trojan Pass. All grade and middle school students will be admitted to the game free of charge.
The Trojans will play Columbus East at 7 p.m. Prior to the game, CYO football players are invited to the Trojan locker room for a pregame talk with Coach Rob Doyle. Players should meet at the South Gate at 6:40 p.m.
At halftime, the St. Pius X Panthers and St. Luke Rams 5 / 6 teams will compete, along with the Christ the King Tigers and St. Pius X Panthers 3 / 4 teams. Join Bishop Chatard on October 1 to cheer on the Trojans!
---
Jr Trojans Girls Club Volleyball - Open Gym & Tryouts
Registration is now open for Jr. Trojans Volleyball open gyms and try outs for girls grades 6-8! Open gyms begin on Oct. 17, 2021; tryouts on Oct. 31. Please visit
the Girls Volleyball Website
for the dates, times, registration links, and more information! Contact club director, Ellen Schroeder, at eschroeder@bishopchatard.org with any questions.
---
Girls Basketball Jr. Trojan League - Gr 3-8
North Deanery girls basketball players, grades 3-8: Become a part of the 2021/22 BCHS Jr. Trojans! Games will be played November through March, depending on the teams. Cost is $150/player. New this year - Elite Teams!
Online registration is now open.
---
Summer Camps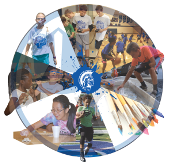 Bishop Chatard High School offers a variety of camps that encourage 1st through 8th grade students to explore new interests, challenge their imaginations and hone current skills. Athletic and enrichment camps appeal to students interested in theatre, technology, music, sports, community service, art and more.
Half and full-day camps are available, or your child may bring a lunch and experience different camps in our morning and afternoon sessions. Early-bird and multiple-camp discounts are available on many camps. Plan to register early – many camps reach capacity quickly!
Check back in early 2022 for the next summer camps.