Trojan Camps & Clinics
Throughout the school year, Bishop Chatard offers athletic and enrichment camps and clinics to grade-school and middle-school students.
---
Girls Basketball Jr. Trojan League
All girls, grades 3-8, interested in playing competitive basketball in the IGHL (Indiana Girls Hoops League): Become a part of the 2019/20 BCHS Jr. Trojans! Games will be played on Sundays in November through February. Game times are TBA. Cost is $150/player.
Online registration is now open.
Email Coach Fisher with questions at kfisher@bishopchatard.org
---
Experience Summer Camps at Bishop Chatard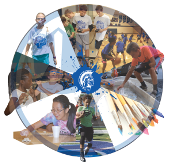 Bishop Chatard High School offers a variety of camps that encourage 1st through 8th grade students to explore new interests, challenge their imaginations and hone current skills. Athletic and enrichment camps appeal to students interested in theatre, technology, music, sports, community service, art and more.
Half and full-day camps are available, or your child may bring a lunch and experience different camps in our morning and afternoon sessions. Early-bird and multiple-camp discounts are available on many camps. Plan to register early – many camps reach capacity quickly!
Check back in late 2019 for the 2020 summer camp offerings!
---
Future Trojan Pass
All North Deanery students receive a Bishop Chatard Future Trojan Pass, providing free admittance to Bishop Chatard drama productions, concerts and home athletic events at the North Deanery high school! (Details are printed on the pass.) The passes are distributed by each North Deanery School.
For details, or if you need to obtain a Future Trojan pass, contact Kelly Lucas, Director of Marketing and Communications, at klucas@bishopchatard.org.
Visit Athletics to view the sports schedules.
Visit Theatre for performance information.
Visit Band & Choir for concert information.
---