---
The word "liturgy" means "work of the people" and it gives us the opportunity to worship God in community with other people of faith.
---
Bishop Chatard provides students with a variety of opportunities to enter into the rich liturgical life of the Church.
All-School Masses offer a regular rhythm of participating in the Sacrament of the Eucharist. The Sacrament of Reconciliation and Eucharistic Adoration are presented to students as essential ways to grow closer to Christ. Prayer services, led by students and guided by staff members, offer the opportunity to pray in diverse ways.
All of our liturgical celebrations provide additional opportunities for students to get involved and lead their peers in prayer.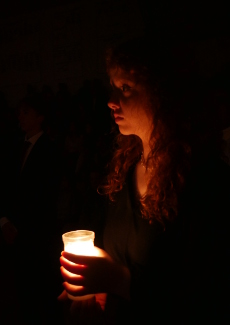 BCHS Liturgical Opportunities Throughout the Year
All-School Masses
Eucharistic Adoration
Freshmen Grandparent Mass (Fall)
Living Rosary (October)
Reconciliation Services
Racial Justice Prayer Service
Ash Wednesday Liturgy
Good Friday Liturgy
Senior Grandparent Mass (Spring)
May Crowning
Baccalaureate Mass
Trinity Club led Rosary (quarterly)

Campus Ministry Calendar
June

2023

Sun
Mon
Tue
Wed
Thu
Fri
Sat

12

Missionary Disciples Institute (MDI)

•

13

Missionary Disciples Institute (MDI)

•

14

Missionary Disciples Institute (MDI)

•

15

Missionary Disciples Institute (MDI)

•

16

Missionary Disciples Institute (MDI)

•

26

Brute Days

One Bread One Cup

• •

27

Brute Days

One Bread One Cup

• •

28

Brute Days

One Bread One Cup

• •