The BCHS Christian Service Program
Bishop Chatard students complete over 20,000 service hours per year. This is made possible through a robust Christian service program that provides a
list of service agencies
and occasional service excursions that allows students to participate in service that fit their unique interests.
Due to COVID-19 and current safety precautions, Christian Service Commitments will look different for the 2020/21 school year. Our hope is that the Christian Service Program can continue in its prior format for the 21/22 school year.
Christian Service in 2020/21
Mother Teresa teaches us that "love begins by taking care of the closest ones — the ones at home." With this lesson in mind and because of the Covid 19 pandemic, Bishop Chatard has decided to expand our opportunities for Christian Service to include Family, Collection, and Advocacy Hours as ways to fulfill students' service commitment for the 2020-2021 school year.
Although we have great hope that we can serve our parishes & community this year, we wanted to provide opportunities to serve a little "closer to home," too. We have found great success for students these past few months growing in love & service from their very own homes. Campus Ministry will continue to adapt and adjust our service hours program as needed. Our call to serve others out of our love of Christ will always continue, beyond this uncertain time, beyond our time at Bishop Chatard. We pray these new ways to serve allow us to see Christ in others.
2020/2021 Christian Service Program coordinators are BCHS teachers, Jeff and Jackie Bach. They can be contacted at jdbach@bishopchatard.org (Jeff) or jbach@bishopchatard.org (Jackie). Community Service Day contact is Mr. Steven Patzke, spatzke@bishopchatard.org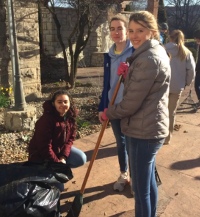 The goal of the Bishop Chatard Christian Service Program is to foster the development of empathy, awareness, social responsibility and Christian community. Our mission sends us into every kind of work, reminding us once again that the further we go in giving, the more we stand to receive.
"We come not only to serve the poor, but also to be with them." Our concern for the dignity of every human being as God's cherished child directs our attention to the disadvantaged.
Christian Service Program Objectives
Expose students to a variety of service opportunities so that they will discover their gifts and interests and remain committed to Christian service for life.
Enable students to work directly with disadvantaged populations (outreach) and to have a deeper appreciation of the dignity of all human persons.
Give students an opportunity to reflect on the message of Jesus Christ as it relates to their service experience and to make that message a permanent part of their lives.
---
Recognizing 'Above and Beyond' Service
St. Francis Assisi Award
Each month, at an all-school Mass, the St. Francis Assisi Award is presented to a student or staff member who is living out the mission of service.
Nominations can be submitted to Steven Patzke, Campus Ministry Director, at spatzke@bishopchatard.org.
Nomination form for the award.
St. Teresa of Calcutta Distinction
The St. Teresa of Calcutta Medallion is given to any student who has completed 75 hours or more of service during a given school year.
St. Lawrence Honor Cord
This honor cord is worn at graduation, signifying a senior who has completed 200+ hours (required and extracurricular) in their 4 years at Bishop Chatard. (Note: First students eligible for this award will be the members of the Class of 2018).
2020 -2021 Christian Service Program Requirements
---
The service hour commitment for each class is as follows:
Freshmen: 10 hours
Sophomores: 15 hours
Juniors: 20 hours
Seniors: 25 hours
Hours can be obtained through any of our five categories (click on the category to open the details)

This is any service completed at a parish or for a parish. This includes helping out with any programs where we are serving our partner schools/parishes. Opportunities include:
Serving in the parish liturgy
Helping with Religious Education
Helping in the school
Serving at a parish event
Serving in one of the parish's social outreach ministries
This is any service done in the community at large without pay. Community events include, but are not limited to:
Assisting at a food pantry
Preparing meals for a soup kitchen
Cleaning a park
View our list of approved agencies
This is any service and help to your family in our time of social distancing. Your family needs you during this difficult time! These are opportunities to show love and give charitably with the realities of social distancing. "Service starts in the home", as they say, so use these suggestions to serve within your own family. Parents can sign off on these hours. Here are some ideas of how you might serve your family.
Help your siblings with their assignments
Cook and serve meals for your family
Clean up and do the dishes after dinner
General cleaning and disinfecting in your home
Do any sort of yard work without pay
Any home project for your parents
Babysit younger siblings
Writing letters to family members that live far away
Calling/face-timing any sick or infirm relatives that are unable to have visitors due to their condition
Cook a meal and bring to your neighbors
Social Services agencies such as Catholic Charities and the Society of St. Vincent de Paul are in desperate need of food and supplies during this difficult time. Bishop Chatard will host monthly collection drives to support those in need. One hour of Christian Service will be given for each drive that a student contributes to. Some drives may include:
Canned food
Clothing
School supplies
Toiletries
There are two "feet" to Catholic Social Thought- service and justice. Both are needed to live out what it means to be an apostle of Jesus! For Advocacy Hours, students will immerse themselves in one of the Catholic Social Teaching resources in our list below.
Read, watch, or listen to the resource. Then, students will have the opportunity to advocate for that issue, by citing that resource for others to learn from and promoting that topic through the lens of Catholic Social Teaching on social media, in our school, or to your local legislator.
View list of Advocacy Resources
Documenting the 3 types of Advocacy Christian Service Hours
In order to "count" advocacy hours, students will need to document how they are advocating.

In addition to these documentation options below, students also need to document the way you advocated on Canvas!
Sending a letter to your local legislator: Upload a photo of the letter you wrote or a photo of you mailing the letter to the Christian Service Canvas page. You also have the option to tweet one of the photos! If you choose to tweet the photo, tag @BCTrojanService and @BCHS_CM with the photo and a caption that explains how the letter supports Catholic Social Teaching. (One Christian service hour will be given.)
Posting about the issue on social media: Tweet an image or photo that has to do with what you learned about Catholic Social Teaching and include a minimum of 250 characters (4-5 sentences) of a quote from or your thoughts supporting the resource. You need to tag @BCTrojanService and @BCHS_CM in the post. (This will hour of earn one hour of service)
Planning an event or publicizing the information at BCHS. Dream big! You can hang flyers around school, set up an information table at lunch, or give a brief reflection before Mass on the topic you learned about from Catholic Social Teaching. To meet this category of service, students will need to read/watch one of the resources listed in the document below. Service hours will only count in this category if one of the resources below is used. Using resources outside of this list will not count toward your service commitment.

Advocacy Service hours will only count in this category if one of the resources in our list is used. Using resources outside of this list will not count toward your service commitment.

View list of Advocacy Resources
Service Notes
There are no limits on which categorical hours can count toward your number of commitment hours. For example- you can complete all your hours through the "Advocacy" option or, you can complete some through "Family" and others through "Community."
Christian Service Hours: Reporting and Deadlines
Students will log their Christian Service hours in Canvas, which will allow parents to check their student's progress through PowerSchool. Students will need to complete the assignment in their Service class on Canvas. All information on how to log hours can be found there! Remember to complete all parts of your service log!
All hours should be logged through the Christian Service Canvas page.
There will be one assignment for each hour completed.
Senior Christian Service hours are due April 1, 2021.
Freshman, Sophomore, Junior Christian Service Hours are due May 1, 2021.
Every student needs to complete their Christian Service commitment by the scheduled "due" date. Students will be marked as Incomplete (INC) in PowerSchool until they have reached their number of required hours. Once a student has met the requirement, they will be marked as Complete (C) in PowerSchool.
2020-2021 Community Service Day -- Canceled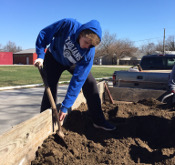 On this day, the entire Bishop Chatard community – students, faculty and support staff – spend the day in service to others throughout the Indianapolis area. Many agencies, churches, and schools benefit from our work and look forward to having us back each year.
Due to COVID-19 safety concerns, this event is canceled for the 2020-2021 school year.