The BCHS Christian Service Program
Bishop Chatard students complete over 20,000 service hours per year. This is made possible through a robust Christian service program that provides a
list of service agencies
and occasional service excursions that allows students to participate in service that fit their unique interests.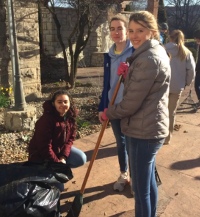 The goal of the Bishop Chatard Christian Service Program is to foster the development of empathy, awareness, social responsibility and Christian community. Our mission sends us into every kind of work, reminding us once again that the further we go in giving, the more we stand to receive.
"We come not only to serve the poor, but also to be with them." Our concern for the dignity of every human being as God's cherished child directs our attention to the disadvantaged.
Christian Service Program Objectives
Expose students to a variety of service opportunities so that they will discover their gifts and interests and remain committed to Christian service for life.
Enable students to work directly with disadvantaged populations (outreach) and to have a deeper appreciation of the dignity of all human persons.
Give students an opportunity to reflect on the message of Jesus Christ as it relates to their service experience and to make that message a permanent part of their lives.
---
Recognizing 'Above and Beyond' Service
St. Francis Assisi Award
Each month, at an all-school Mass, the St. Francis Assisi Award is presented to a student or staff member who is living out the mission of service.
Nominations can be submitted to Libbie Steiner, Campus Ministry Director, at Lsteiner@bishopchatard.org.
Nomination form for the award.
St. Teresa of Calcutta Distinction
The St. Teresa of Calcutta Medallion is given to any student who has completed 75 hours or more of service during a given school year.
St. Lawrence Honor Cord
This honor cord is worn at graduation, signifying a senior who has completed 200+ hours (required and extracurricular) in their 4 years at Bishop Chatard. (Note: First students eligible for this award will be the members of the Class of 2018).
---
2021 -2022 Christian Service Program Requirements
---
Freshmen Requirement
Jesus began his service at home with the Holy Family, and our freshmen begin their journey in the same way. Each first-year student forms an intentional relationship with a member of their immediate family and serves with that individual in a meaningful way for a minimum of 10 hours. Projects range from tutoring a sibling to helping a parent/guardian with a long-neglected home improvement project.
Check back for FAQs and details
---
Sophomore Requirement
At a young age, Scripture shows Jesus participating in his faith at the temple. Continuing in Christ's footsteps, Sophomore Christian Service is focused on the student's faith community. Sophomores must complete 15 hours of direct service acting as part of their faith community. If they are not active in a particular faith community, we encourage them to 1) join one for a new experience or 2) partner with a friend who is active in his/her worship community. Their supervisor must be someone other than a relative.
Check back for FAQs and details
---
Junior Requirement
In his public ministry, Jesus focused his attention on serving the poor and marginalized of society. Juniors, therefore, must spend 20 hours performing Christian Service that falls into the "Life and Dignity of the Human Person" principle of Catholic Social Teaching by directly serving the "poor or marginalized" of their local community. Examples of Christian service would include serving those experiencing homelessness, food pantries, soup kitchens, assisted living communities, prisons, and hospitals. All hours must be completed at one organization and the supervisor must be someone other than a relative.
Check back for FAQs and details
---
Senior Requirement
Jesus passed his mission on to the apostles, who formed the earliest Christian communities. As these small groups developed into the Church, their response to social justice concerns became better articulated through the principles of Catholic Social Teaching. Senior year, students complete 25 hours and have the option to perform Christian service based on their interests that fall into the principles of Catholic Social Teaching (Life and Dignity of the Human Person; Call to Family, Community, and Participation; Rights and Responsibilities; Option for the Poor and Vulnerable; The Dignity of Work and the Rights of Workers; Solidarity; Care for God's Creation). All hours must be completed at one organization and the supervisor must be someone other than a relative.
Check back for FAQs and details