#InThisTogether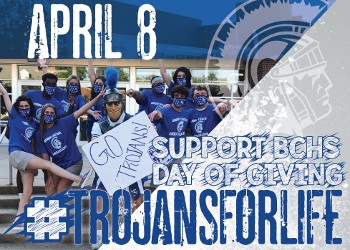 Live like a Trojan – Give like a Trojan!
On April 8, 2021 the BCHS community joined together for our annual 24-hour BCHS Day of Giving and raised over $34,000 during the day!
You may remember that last year's Day of Giving campaign shifted to an emergency relief fund for our families struggling through Covid 19. There is still a need today to provide tuition support for some of those families. Additionally, we offered an opportunity to choose to give to what you love at Bishop Chatard : Athletics, Campus Ministry, Fine Arts, or the Student Experience (Clubs, leadership programs, Student Life).
With deep appreciation, we thank all those in our Bishop Chatard community for the support you have shown us during this day of giving. And, it's never too late to add your donation. #InThisTogether
Make a Donation Today
Highlighted Times
Noon – 1:00 p.m. – Matching Hour: Every dollar donated up to a total of $2,100 will be matched, by a generous Trojan alumni. WOW! Our matching hour was exceeded by $4000! Congratulations to Glenn '86 and Colleen Bill, winners of the $25 Binkley's gift certificate in the Matching Hour drawing.
8:00 – 9:00 p.m. – Gift Card Drawing: Marshall and Karen Parker are the winners of the gift card to Keystone Sports Review.
Indiana Residents
Indiana residents can choose to donate to Bishop Chatard thru an SGO, which directly awards educational grants to our students most in need, AND allows donors to receive a substantial Indiana state tax credit of 50% of your donation (in addition to any Federal tax deduction).
Read more about SGOs
Questions? Contact Margaret Ruffing, Director of Fund Development at 317-251-1451, ext. 2242, or mruffing@bishopchatard.org. Thank you for supporting Bishop Chatard High School!