#InThisTogether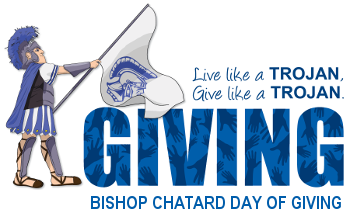 Live like a Trojan – Give like a Trojan!
March 22, 2022
On this day, the BCHS community joins together for our annual 24-hour BCHS Day of Giving. In 2021, over $34,000 was raised during the day!
Funds raised during the day support tuition assistance for BCHS families or can be directed to areas of your choice.
With deep appreciation, we thank all those in our Bishop Chatard community for the support you have shown us during this day of giving. And, it's never too late to add your donation. #InThisTogether
Make a Donation to the 2021 Day
Indiana Residents
Indiana residents can choose to donate to Bishop Chatard thru an SGO, which directly awards educational grants to our students most in need, AND allows donors to receive a substantial Indiana state tax credit of 50% of your donation (in addition to any Federal tax deduction).
Read more about SGOs
Questions? Contact Margaret Ruffing, Executive Director of Fund Development at 317-251-1451, ext. 2242, or mruffing@bishopchatard.org. Thank you for supporting Bishop Chatard High School!