#GiveLikeATrojan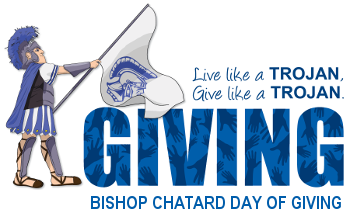 Live like a Trojan – Give like a Trojan!
Trojan Day of Giving is the day for the BCHS community – past, present & future – to Give like a Trojan!
The impact we can make when we work together will make a difference in the lives of all of our students! 100% of your donation supports students through tuition assistance.
Check back for information about the 2020/21 Day of Giving.
Would you like to help?
Will you help us create energy and support for BCHS on Trojan Day of Giving? In addition to helping our students with a financial gift on this day, there are a number of creative ways to support BCHS!  You can:
Issue a challenge to your classmates or teammates to reach a specific giving goal during a designated hour
Challenge another class or team to see who can raise the most during a designated hour
Underwrite a prize that will be given to all donors, or raffled to all donors, who give during a designated time period
Questions? Contact Margaret Ruffing, Director of Fund Development at 317-251-1451, ext. 2242, or mruffing@bishopchatard.org. Thank you for supporting Bishop Chatard High School!
Make a Donation Today