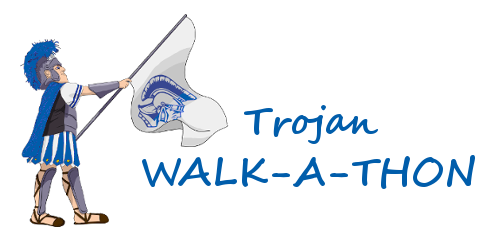 2021 Walk-a-Thon: April 23, 2021
We are thrilled to be able to hold our traditional Walk-a-Thon this year on Friday, April 23, 2021, appropriately named #InThisTogether. Walk-a-Thon is our annual student fundraiser – and every dollar raised provides tuition assistance for Bishop Chatard families.
Students are encouraged to participate by securing a minimum of $50 in donations. Our fundraising goal this year is $21,000, with 100% student participation. Thank you for supporting our students, proving we are #InThisTogether as we all seek to give something back.
Donate Online to the 2021 Walk-A-Thon
Dress for the day: Walk-a-Thon T-shirt (provided) and comfortable, athletic clothing, including closed-toe shoes appropriate for walk along the track, following COVID guidelines
Lunch at Walk-a-Thon: Complimentary burger, chips, fruit and bottled water
Dismissal: 12:30 – 1:00 p.m., after Walk-a-Thon is complete
Collection of Walk-a-Thon money: A Walk-a-Thon envelope will be provided to each student this Thursday. Students are asked to turn in their donations in the envelope provided in the cafeteria at all lunch periods next week, April 12 through 14.
If a student does not participate with a financial gift, he/she will be able to 'give something back' by writing notes of gratitude to our benefactors in the Advancement Office during the walk portion of the Walk-a-Thon. Contact Director of Development, Margaret Ruffing at mruffing@bishopchatard.org if you have questions.
For more information, contact Director of Development Margaret Ruffing at mruffing@bishopchatard.org or 317-251-1451, ext. 2242.