BCHS 'Balding Eagles' Improv Team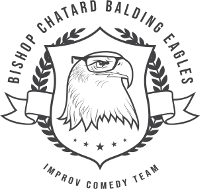 Bishop Chatard's award-winning Improv Team, 'Balding Eagles', is one of the most popular extracurricular organizations at Bishop Chatard.
Students have a great time while learning important life skills! Besides teaching teamwork and having fun, improvisation develops performance skills that can carry over in many life situations: listening, observing, being in the moment and thinking on your feet.
2021-2022 faculty facilitators for the team are Tristan Zavaleta and Joseph Knight.
---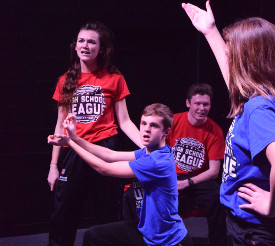 An Inside Look at the Sport
The BCHS Improv team begins preparation for its season towards the end of October. Workshops introduce improv to students new to the sport. Tryouts for the team are held shortly after. Practices then start, consisting of warm ups, exercises highlighting important roles to comedy, and practice games that will be played at matches.
More is required to be a part of the Improv Comedy team than meets the eye. Rule followers, not just people who are considered funny, succeed in this endeavor. Members try to follow the basic "Tina Fey rules of improv" which consists of agreeing to your partner in a scene and also adding onto a scene.
Inter-school matches can begin in January and run through April. Match comedy is for everyone and therefore must be appropriate. Inappropriate lines can be penalized by the match referee with a brown bag foul, causing the player to wear a brown bag over his/her head for the remainder of the scene. Puns that cause the audience to groan may result in a loss of points for the team. unless the player declares a heartfelt apology to the audience. Energy is also a key part to improv.
The goal of a match is to make the audience laugh since they determine the winner based on reactions, enthusiasm and applause.