BCHS Improv Team
Bishop Chatard's award-winning Improv Team is one of the most popular extracurricular organizations at Bishop Chatard. Students have a great time while learning important life skills! Besides teaching teamwork and having fun, improvisation develops performance skills that can carry over in many life situations: listening, observing, being in the moment and thinking on your feet.
Read About the Team on The-Blueprint.org
Improv Team Workshops and Tryouts begin Oct. 15
Any students interested in trying out for the Bishop Chatard Improv Team: please attend a tryout workshops (optional) and one of the scheduled tryouts (only need to come to one)! Students will be invited to come to callbacks.
Workshop #1 Oct. 15 - 4:45-6:30 p.m.
Workshop #2 Oct. 17 -3:30-5:00 p.m.
Tryout #1 Oct. 29 - 3:30-5:00 p.m.
Tryout #2 Oct. 30 - 3:30-5:00 p.m.
Callbacks Nov. 1- 2:30-4:00 p.m.
All take place in the Kyle Guyton Theatre. If you have any questions, please contact Mr. Mayer - tmayer@bishopchatard.org
---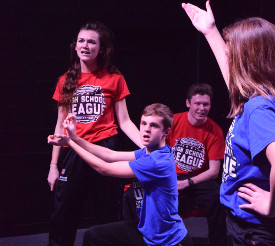 Bishop Chatard's Vice President of Institutional Advancement, Tyler Mayer, coaches the Improv Team. If you would like to know more, contact him at tmayer@bishopchatard.org.