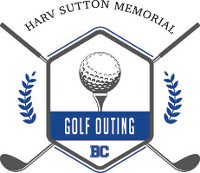 Golfers of all skill levels enjoy Bishop Chatard's Annual Golf Outing, typically held in the fall each year. Participation and sponsorship proceeds from the event support tuition assistance and teacher compensation.
Mark your calendar for the 2023 Golf Outing on Monday, September 18, 2023
---
The 2022 Outing
The 2022 Golf Outing was held on Friday, October 7, 2022 at Highland Country Club, 1050 W. 52nd Street, Indianapolis, 46228.
The women's winning team included Megan Andress '03, Julia Kaercher '05, Allison Roe '00 and
Mary Leppert. Men's winning team included Bill Kennedy '08, Nick Karas '03, Kevin Bolin, and
Brian Shelbourne.
---
Scenes from the 2022 Golf Outing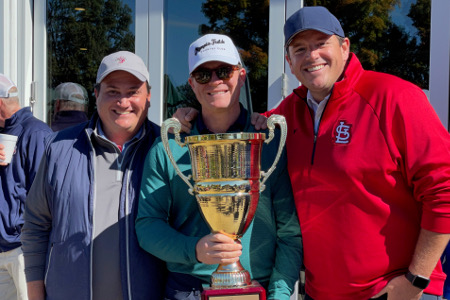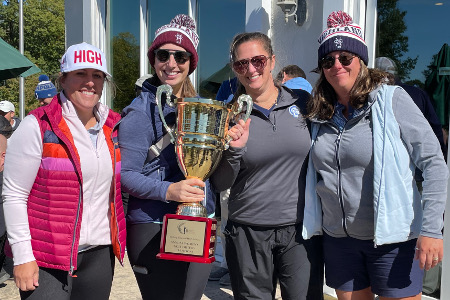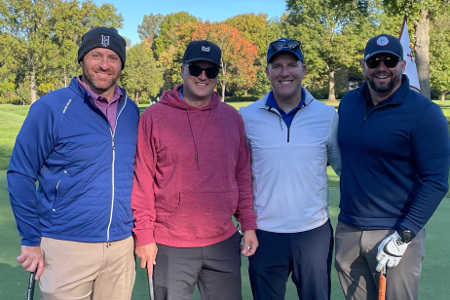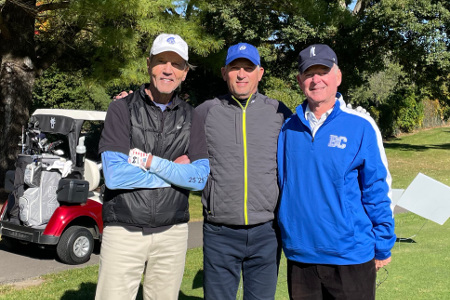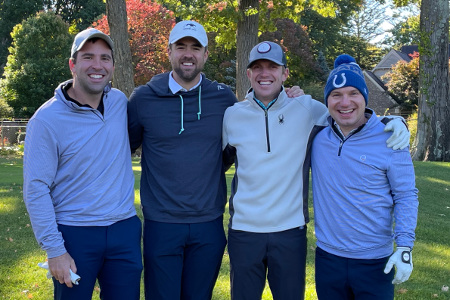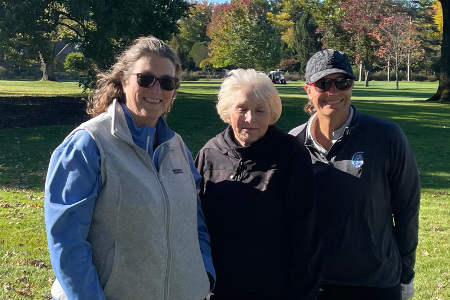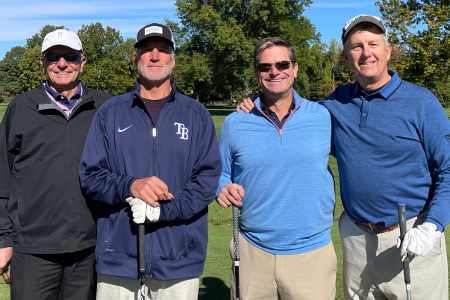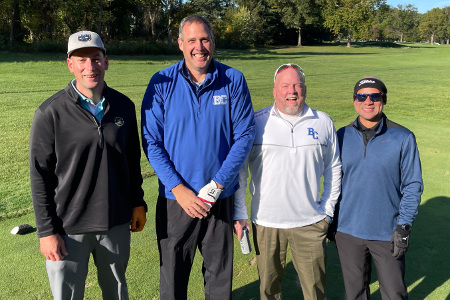 Previous
Next
---
Become A Golf Outing Sponsor
Your sponsorship of the event supports tuition assistance and teacher compensation through the Harv Sutton Fund.
Golf Outing Sponsorship Opportunities
Become a Sponsor
If you would like to talk with someone about golf sponsorship opportunities, please contact Anne Homan, Director of Alumni Relations, at ahoman@bishopchatard.org or 317-251-1451, Ext. 2236.
---
Thank you to our 2022 Golf Outing Sponsors!
---
ALL-EVENT PREMIER SPONSORS
---
All-EVENT TROJAN SPONSORS
---
Title Sponsors
---
Swag Sponsors
---
Golf Cart Sponsors
ACRE Capital
Avenue Development
Bradley Associates
Northside Events Indy
Ryan Fireprotection, Inc.
Taft Law
Snack/Beverage Station Sponsors
ABC Metal
Acuity Capital Group
Ambrosia
Binkleys Kitchen and Bar
Crew Carwash
Derek DiSalvo Family
DOZ
Dury Investment Group
Enviro-Max, Inc.
EPIC Insurance
Go Trojans-BC Class of 1969
JAT Fort Wayne
John Leonard
LJI Wealth Mgmt
Matt McLaughlin
S.A. Berg Company
Sullivan's Hardware
Sumco Group
The Mahin Family
Tim & Sheila('86) McNelis
Wenclewicz Insurance / Mark Wenclewicz
Golf Hole Sponsors
Accessa – The Todd Family
Ambrosia
The Andress Family: Kelly, '02, Maxie '06, Brian, '04
Casey-Bertram Demolition
Commercial Finishing Corporation
Creamer Elson & O'Brien: REALTORS since 1986
Dan and Carol Mark Family
Denis & Susan (1966) McCusker
Ed Stonner
Flanner and Buchanan
Henry Wannemuehler
Homan Interiors
Huntington Bank
Jamie Pratt '69 Family
Jamison & Hillary Downs
Jan & John Homan
Janie Ford and Mary Ann Hurrle Class of '68
Jeff Noel
John and Cathy Wagner
John C Hart Company
Kennedy Tank
Lumin Air
MAB & Associates, Inc. & Matt & Debbie Berg
Martin Family
Matt '05 & Robin Tyner
Maureen Hurrle '02, Will Hurrle '04, Anne Hurrle '06, Dan Hurrle '09, Matt Hurrle '12
Michaelis Corporation
Noll Landscape
Northside Glass
Oakland Heating & Air LLC
Pat Zimmerman '02 & Luke Zimmerman '98
RE/Max The Sergi Group
Rick Lux
Robert Dietrick Company
Roberts Glass
Russ Lawrence
Scott Wenclewicz Insurance
Shawn & Jo Keating
Sparta Metal Processing
Stark Leasing
Storage Solutions
Susie Sokol
Terri & Jim McLaughlin
The Brad Smith Arts Fund
The Dietrick Family
The Guymon Family – Steve and Kari Guymon – Samuel '16, Patrick '18 and Katie '20
The Joe Ford '69 Family
The McGinley Family – Grace '19, Moira '21, Anna '22, Rose '24 and Michael '25
The Motz Group
The Schaffer Family
The Steve Hurrle Family
Tito's Vodka
Trilogy Marketing LLC
Weybright Insurance Network
Weybright Premier Student Housing
Will Hurrle Family
---
*License #000572