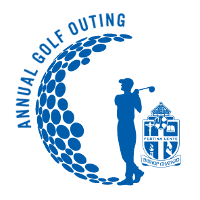 Golfers of all skill levels enjoy Bishop Chatard's Annual Golf Outing. Participation and sponsorship proceeds from the event support tuition assistance through the Harv Sutton Fund.
2018 Golf Outing: October 5
Bishop Chatard's 2018 Golf Outing will be held on Friday, Oct. 5 at Highland Country Club. Play a round of golf with friends and then join us for Homecoming 2018!
7:30 a.m. – Check In, Breakfast, Bloody Mary Bar
8:20 a.m. – Welcome and Announcements
8:30 a.m. – Shot Gun Start
11 a.m. – Lunch service begins on west deck
1:30 p.m. – Winners circle presentations, Split the Pot and prizes announced
Ticket Prices
Individual Golfer: $150
Alumni under 30 years old: $100
Foursome: $600
Alumni Foursome, under 30 years old: $400
Price includes a meal both before and after play, drinks while on the course and much more!
Make Your Reservation Here
---
Become A Golf Outing Sponsor
Proceeds from the outing benefit BCHS students in need of financial aid. Your sponsorship helps make that possible.
Golf Outing Sponsorship Opportunities
If you would like to talk with someone about sponsorship opportunities, please contact Director of Fund Development Margaret Ruffing, at mruffing@bishopchatard.org or 317-251-1451, ext. 2242.
---
Thank you to our 2017 Golf Outing Sponsors!
Brybelly Holdings, Inc.
Catholic Cemeteries and Buchanan Group, Maureen O'Hara '81, Mark McCrocklin '80
Crowe Horwath, Tony Barnes
The DiSalvo Group of Marcus & Millichap, Joseph & Laura DiSalvo
DMA, Inc.
DOZ I Dauby O'Connor & Zaleski, LLC
Herff Jones
Merchants Affordable Housing Corp, Julia & Matt Kaercher
Merchants Bank of Indiana, Mike Petrie
MMY Consulting, The Monochino Family
O'Brien Toyota, Tom O'Brien Chrysler Dodge Jeep Ram
PR Mortgage & Investments, Mike and Carly Dury
Tendercare Home Health Services
Veritas Reality, The Downs Family
Thank you to our 2017 Golf Drink or Hole Sponsors!
Avenue Development
BKD, LLP
CBMC Lighting Solutions, Inc. (Russ Miller)
Commercial Finishing Corp.
Creamer Elson O'Brien, CEOs of Real Estate
Danco Roofing Services, Inc.
DeFouw Chevrolet-BMW, Lafayette, Dennis Gernhardt '68
Genesis Sports Performance, Graham Wilkerson '08
Giraffe-X Graphics
Huntington Bank
Innovatemap
JAT of Ft. Wayne
M.A.B. & Associates, Inc.
Midland Atlantic Properties
The Klausner Duffy DiSalvo Investment Group, Derek DiSalvo
Mussett, Nicholas & Associates, Inc.
Noel-Smyser Engineering Corp.
NOW Courier, Inc., Ryan and Emily Schwalbach
ONI Risk Partners, Inc. (John Sahm '85, Peter Forsee, '85)
The Patrick Project, John Leonard
Printing Partners
Quality Information Technology, Inc.
The Robert Dietrick Company
Roberts Glass & Service
SA Berg Company
Schoolbelles
Scopelitis, Garvin, Light, Hanson & Feary, P.C.
The Sergi Group with ReMax Legends (Steve Sergi)
Valbridge Property Group, Joe Alerding MAI
Versatile Processing Group, Inc.
Vista Graphic Communications, Tim Rolfsen
West Fork Whiskey
The Liz and Bill Hurrle Family
William Hurrle the 5th
Leslie, Lyla, and Daniel Jacobs
The Ford Family: Jane Ford Wilkes '68, Joe Ford '69, Sara Ford Berscheit '01, Mike Ford '76, Dan Ford '09, Tom Ford '12
The Leone Family: John, Regina, Melissa '88, Jay '96, Kristen '04, Todd '06
The Martin Family: Class of '07, '09, '11
Denis and Susan Mark McCusker, '66
Tim and Sheila McNelis & Family
Clark M. Millman and Sally Bindley Millman
The John and Cathy Wagner Family
Wantuck Family Class of '97
The Zimmerman Family: Luke '99, Patrick '02
Scenes from Golf Outing 2017