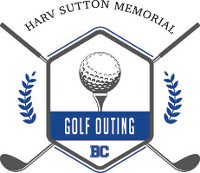 Alumni Golf Outing: September 18, 2023
Tee off with the Trojans! Money raised through the Golf Outing supports the Harv Sutton Fund for Tuition Assistance, continuing Bishop Chatard's mission to provide an exceptional Catholic education to all who seek it. Golfers of all ages and experience levels make this event a favorite Trojan tradition.
---
The 2023 Outing Winners
Congratulations to the 2023 Golf Outing winners:
The women's winning team included Megan Andress '03, Julia Kaercher '05, Allison Roe '00 and
Molly Rago. Men's winning team, with a 13 under, was John Hurtz, Samuel Guymon, Pete Mungoven and Ed Stonner.
---
Scenes from the 2022 Golf Outing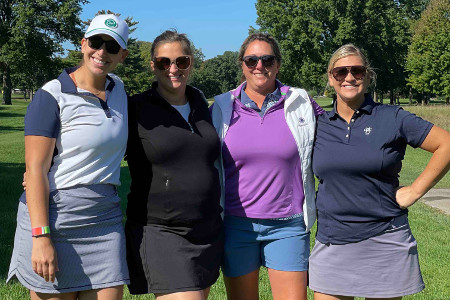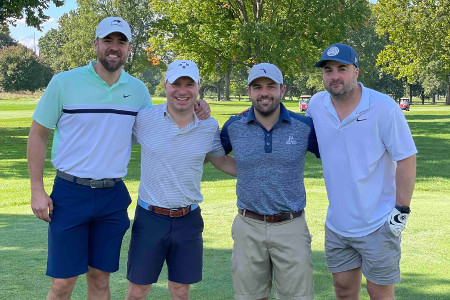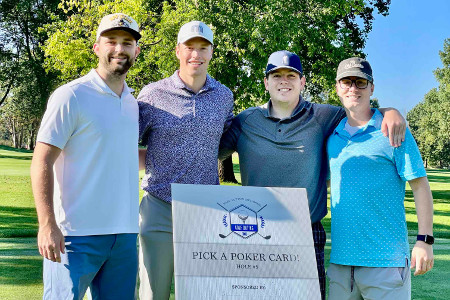 Previous
Next
---
Become A Golf Outing Sponsor
Your sponsorship of the event supports tuition assistance and teacher compensation through the Harv Sutton Fund.
Golf Outing Sponsorship Opportunities
Become a Sponsor
If you would like to talk with someone about golf sponsorship opportunities, please contact Deanna Murphy, Director of Alumni Relations & Special Events, at dmurphy@bishopchatard.org.
---
Thank you to our 2023 Golf Outing Sponsors!
---
ALL-EVENT PREMIER SPONSORS
---
All-EVENT TROJAN SPONSORS
---
Title Sponsors
---
Swag Sponsors
---
Golf Cart Sponsors
Snack/Beverage Station Sponsors
ABC Metal Group
Acuity Capital Group
Ambrosia
Ameriplate
Binkley's Kitchen and Bar
Denis & Susan (1966) McCusker
DOZ
Dury Investment Group
EPIC Insurance
Go Trojans – BC Class of 1969
JAT Fort Wayne
John Leonard
Matt McLaughlin
Medasource: The Zimmerman Family Patrick '02 & Luke '99
Northside Events & Social Club
S.A. Berg Company
Sumco Group
The Mahin Family
Tim & Sheila ('86) McNelis
Golf Hole Sponsors
Accessa – The Todd Family
Assured Partners
Audio Architects
Casey-Bertram
CBRE
Commercial Fishing Corporation
Creamer Elson & O'Brien Realty
Dan and Carol Mark Family
Danco Roofing Services, Inc.
eXP Realty – Glenn Bill
Flanner Buchanan & Catholic Cemeteries Association- Maureen O'Hara '81 & Mark McCrocklin '80
Huntington Bank
Jamison & Hilary Downs
Jeff Noel
John C. Hart Company
Kennedy Tank
Lickliter Realty
M.A.B. & Associates, Inc.
Mary Ann Hurrle '68/Jane Ford '68
Mary Ann Hurrle '68
MJ Insurance: Richard Quigley
Noll Landscape
Northside Glass
Pat '90, Deanna, Conner '26 & Erin '29 Murphy
Pratt Family: Jamie, Judy, David & Mary
Rick Lux '72: R.P. Lux Commercial Real Estate Services
Russ Lawrence Real Estate Group
Shawn and Jo Keating Family
ShipSigma
Stark Leasing
Storage Solutions
Terri McLaughlin
The Brad Smith Arts Fund
The Guymon Family-Steve and Kari Guymon-Samuel '16, Patrick '18 and Katie '20
The Joe Ford Family
The McGinley Family – Grace '19, Moira '21, Anna '22, Rose '24 and Michael '25
The Millman Family: Sally, Clark, Christine '20 & Grant '21
The Motz Group
The Schaffer Family
Trilogy Marketing LLC
USI Insurance
VDS – Greg and Maggie Gardner Class of 2012
Weybright Insurance Network
Weybright Premier Student Housing
Williams and Caskey HOA Management
*License #000572