2020 Scholastic Art Competition Awards
---
Seven BCHS student-artists recently received awards at the 2020 Scholastic Art Competition. Gold Key awarded works of art will continue to the New York National Awards.
Gold Key Awards
Senior Rachael Brown: two Gold Key Awards, mixed media works
Grace Timpe: Gold Key Award, mixed media work
Silver Key Awards
Senior Wyatt Prather: mixed media work
Rachel Brown: mixed media work
Honorable Mention
Senior Kim Bowers: mixed media work
Junior Hangying (Arie) Li: two Honorable Mentions, two sculptures
Senior Lottie Ogorek: two Honorable Mentions, photography
Wyatt Prather: Honorable Mention, mixed media work
Senior Jacob Szydlyk: Honorable Mention, mixed media work
Art Works on Display: March 18 – 22, Awards Ceremony: March 22
Bishop Chatard Gold and Silver Key works will be on display at the Butler Arts & Events Center, Clowes Memorial Hall. The ART.WRITE.NOW. Central & Southern Indiana Regional Exhibit of the Scholastic Art & Writing Awards will be open at 11:00 a.m. daily from Tuesday, March 18, through Sunday, March 22, 2020.
The Scholastic Visions and Voices Awards Ceremony will be held on Sunday, March 22, 2020 at 2:00 PM 2020, in the outer lobby areas of Clowes Memorial Hall and the Howard L. Schrott Center for the Arts.
Over 3,000 students submitted works for the 2020 competition. Less than 600 were chosen for awards.
Works were judged by esteemed regional artists and educators. Judges awarded student works based on the following criteria:
Originality: Work that breaks from convention, blurs the boundaries between genres, and challenges notions of how a particular concept or emotion can be expressed.
Technical Skill: Work that uses technique to advance an original perspective or a personal vision or voice, and shows skills being utilized to create something unique, powerful, and innovative.
Emergence of a Personal Vision or Voice: Work with an authentic and unique point of view and style.
The Central/Southern Indiana Art and Writing Region includes the counties of Bartholomew, Boone, Brown, Clay, Clinton, Daviess, Decatur, Delaware, Dubois, Fayette, Fountain, Gibson, Greene, Hamilton, Hancock, Harrison, Hendricks, Henry, Jackson, Jefferson, Jennings, Johnson, Knox, Lawrence, Madison, Marion, Martin, Monroe, Montgomery, Morgan, Orange, Owen, Parke, Perry, Pike, Posey, Putnam, Randolph, Rush, Scott, Shelby, Spencer, Sullivan, Tippecanoe, Tipton, Union, Vanderburgh, Vermillion, Vigo, Warren, Warrick, Wayne.

The Art Program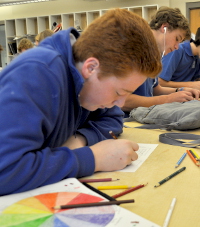 The Bishop Chatard Fine Arts Department offers a robust and challenging selection of art courses to fit the needs of every student who wishes to create and study the visual arts.
Students will enjoy both 2D and 3D art classes and, for those who just wish to appreciate art, we offer AP Art History — a rigorous college-level art history survey course. Classes are taught to develop art making skills that advance to mastery levels. A student can go from our Intro classes of 2D Art, 3D Art and Ceramics and advance up to AP 2D, Drawing and 3D Studio Art.
Students will experiment with a wide variety of art materials and techniques. Art teachers encourage skill development and experimentation. The courses advance in the same way art is taught at the university level.
BCHS Art Teachers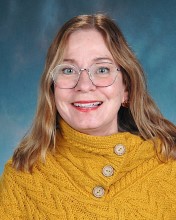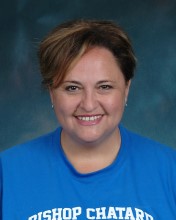 2018/2019 Art Courses
Introduction to 2-D Art
Introduction to 3-D Art
Ceramics
Painting
Drawing
Digital Design
AP Studio Art
Art History: AP
Drafting & Design I, II
View Course Descriptions
The Memory Project: 2019/2020
BCHS Art Club members receive personal photos from a Memory Project participating school, sketch the portraits and send them back to the school. Sometimes these sketches are the only photos a student will have of themselves. Sketches from the 2019/20 Memory Project were given to children living in Pakistan. The joy on the faces of these lovely children illustrates the healing power of art. Thank you for watching this video.
---
2019 Art Memory Project
To children in the urban slums of Columbia
View 2019 Project Video
2018 Art Memory Project
To displaced Syrian refugee children living in a refugee camp:
View 2018 Project Video
Arts Service Club
Moderated by BCHS Art Teachers Lisa Johnston and Emily Goff, the Arts Service Club is a student club where students can mix artistic creativity with service. Art has the potential to brighten lives and foster change. The BCHS Art Service Club endeavors to use the creative talents of our students to make a positive impact on the lives of others. Major activities include the Memory Project, making Valentine's cards for St. Augustine's residents and other projects where students can serve through art. All are welcome.

2020 Scholastic Art Competition Award Winners
Click on photo to view full work