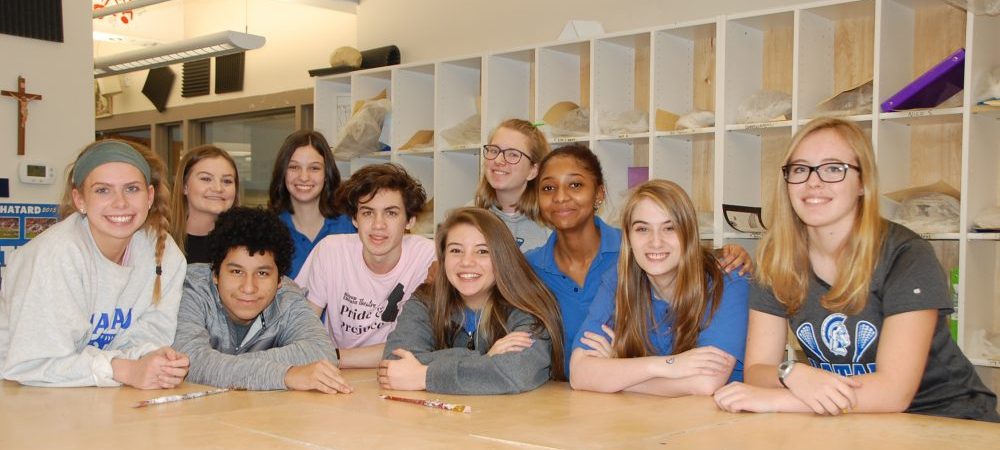 Over 3000 students submitted work in the Central Indiana region that includes 17 counties in Indiana for the 2017 Scholastic Art Competition. This year, Bishop Chatard had 16 works of art earn an award in the regional competition. In total, Bishop Chatard students earned two Gold Keys, Four Silver Keys and nine Honorable Mentions. Gold Key award winners will go onto New York to be judged in the National Competition.
Desirae Fuller was awarded two Gold Keys for two of her mixed media artworks. Alison Matheny was awarded a Gold Key for her mixed media work. Taliyah Guy earned two Silver Keys for her two drawings. Cianna Grummer earned a Silver Key for her mixed media work and Sarah Walker earned a Silver Key for her photograph.
All BCHS winners will be honored at the Visions & Voices Awards Ceremony at Clowes Memorial Hall at Butler University on March 18, 2018 at 2 p.m.
Pictured above, front row, left to right: Sarah Walker, Anthony Cuevas, Hector Jimenez, Desirae Fuller, Taliyah Guy, Alison Matheny and Izzy Corns. Back row, left to right: Molly Keating, Cianna Grummer and Grace Timpe.
Some Award Winning Compositions
Click on the photo to view the full size