BCHS Presents Dad's Day Breakfast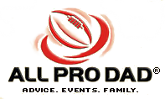 Join us for Dad's Day Breakfast, a program affiliated with the national organization All-Pro Dad (
www.allprodad.com
). Dad's Day Breakfast program is a great opportunity for dads to share a meal with their children before heading off to work for the day. It is special parent-child time that benefits everyone.
(We call it Dad's Day, but Moms are always welcome!)
Our next Dad's Day Breakfast will be Friday, March 15, 2018
6:00 a.m. in the BCHS cafeteria.

Guest Speaker will be Bruce Scifres.
Bruce Scifres, long-time Head Football Coach of Roncalli High School and current Executive Director of the Catholic Youth Organization. Bruce is the focus of a recently released video, "Coaching for Christ." He will share his thoughts on the importance of mentors in the lives of young people and the need for all we do to be Christ-centered.
RSVP HERE
Note: Include the total number of your family attending in your RSVP. RSVP by noon on Tuesday, November 14. (You can also email Deacon Rick at rwagner@bishopchatard.org to RSVP).
Breakfast Format
Doors open at 6:00 a.m.
Food line opens at 6:15 a.m.
Speaker from 6:35-7:05 a.m.
Wrap up and door prizes, followed by dismissal no later than 7:15 a.m.
Cost is $5/person, payable at the door. Please RSVP so we have a headcount for breakfast.
What is Dad's Day Breakfast?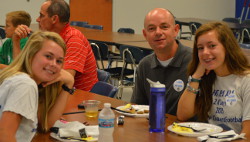 For those of you who may be unfamiliar with the Dad's Day Breakfast program, it is an opportunity for dads to spend some quality time with their children. We offer prayer, breakfast, a speaker, and more.and still get Dad off to work on time.
While we call this Dad's Day Breakfast, grandfathers, uncles, etc. are welcome. Moms and younger siblings can come along as well if they are interested!
What about parking?
On the days we host our Dad's Day Breakfast, there will be no reserved parking in the back parking lot. Feel free to park in any of the parking spaces there, enter Door #10 and proceed downstairs to the cafeteria. Please do not park on Crittenden Ave.
Do I need to RSVP?
Yes, for planning purposes, we are asking that you RSVP for each event. Be sure to RSVP for yourself and your guests.
RSVP HERE
You may also RSVP by sending an e-mail to Deacon Rick at rwagner@bishopchatard.org
Future Breakfasts
Check back in the summer for the 2018/2019 Dad's Day Breakfast schedule.