BCHS Presents Dad's Day Breakfast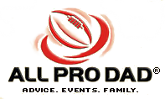 Join us for Dad's Day Breakfast, a program affiliated with the national organization All-Pro Dad (
www.allprodad.com
). Dad's Day Breakfast program is a great opportunity for dads to share a meal with their children before heading off to work for the day. It is special parent-child time that benefits everyone.
(We call it Dad's Day, but Moms are always welcome!)
March 11, 2020 Dad's Day Breakfast
Guest Speaker: Archbishop Thompson
Bishop Chatard Dad's Day Breakfast is honored to welcome Archbishop Charles Thompson as our featured speaker on Wednesday, March 11!
RSVP HERE
Note: Include the total number of your family attending in your RSVP. Please RSVP by 12:00 noon on Monday, March 9.
Breakfast Format
Cafeteria doors open at 6:00 a.m.
Food line opens at 6:15 a.m.
Speaker from 6:35-7:05 a.m.
Wrap up and door prizes, followed by dismissal no later than 7:15 a.m.
Cost is $5/person, payable at the door. Please RSVP so we have a headcount for breakfast.
What is Dad's Day Breakfast?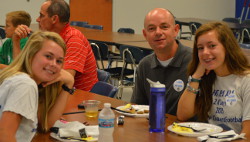 For those of you who may be unfamiliar with the Dad's Day Breakfast program, it is an opportunity for dads to spend some quality time with their children. We offer prayer, breakfast, a speaker, and more, and still get Dad off to work on time.
While we call this Dad's Day Breakfast, grandfathers, uncles, etc. are welcome. Moms and younger siblings are always welcome too!
What about parking?
You are welcome to park in any space in the back parking lot of the school and enter Door #10. Please do not park on Crittenden Ave.
Do I need to RSVP?
Yes – it is helpful to the cafeteria staff to have a headcount. Please RSVP by 12:00 noon on Wednesday, March 4.
RSVP HERE
Questions? Contact Deacon Rick at rwagner@bishopchatard.org
"I treasure getting the opportunity to get a hug from my kids or having an opportunity to share a kind word with them. We forget to do that sometimes in our busy day. Thanks for getting us all to stop and relax for an hour with our kids." — BCHS Dad
"It's hard to get them up for school on a normal school day. But it amazed me how they had no problem getting up an hour earlier today for this event. No doubt they welcomed the opportunity to spend time with their dad. We forget how much they treasure these times together. I drove to work with a big smile on my face!" — BCHS Dad