BCHS Presents Dad's Day Breakfast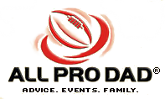 Join us for Dad's Day Breakfast, a program affiliated with the national organization All-Pro Dad (
www.allprodad.com
). Dad's Day Breakfast program is a great opportunity for dads to share a meal with their children before heading off to work for the day. It is special parent-child time that benefits everyone.
(We call it Dad's Day, but Moms are always welcome!)
This program is temporarily put on hold due to COVID-19 concerns.