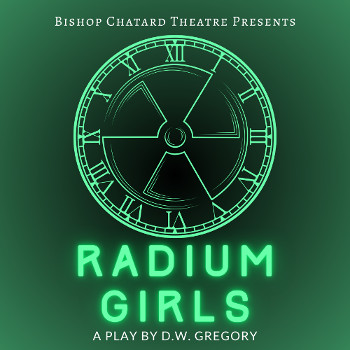 The Bishop Chatard Theatre Department invites you to their fall play, Radium Girls!
When: November 2, 3 & 4, 2023 (Thursday, Friday, Saturday)
Where: BCHS Main Gym
Time: 7:00 p.m. at BCHS. Doors open at 6:30 p.m.
Online reserved seating or at the door bleacher seating.
Video recording of the Thursday show is available for purchase.
In 1926, radium was a miracle cure, Madame Curie an international celebrity, and luminous watches the latest rage—until the girls who painted them began to fall ill with a mysterious disease.
Inspired by a true story, Radium Girls traces the efforts of Grace Fryer, a dial painter, as she fights for her day in court. Her chief adversary is her former employer, Arthur Roeder, an idealistic man who cannot bring himself to believe that the same element that shrinks tumors could have anything to do with the terrifying rash of illnesses among his employees. As the case goes on, however, Grace finds herself battling not just with the U.S. Radium Corporation, but with her own family and friends, who fear that her campaign for justice will backfire.
Written with warmth and humor, Radium Girls is a fast-moving, highly theatrical ensemble piece. Called a "powerful" and "engrossing" drama by critics, Radium Girls offers a wry, unflinching look at the peculiarly American obsessions with health, wealth, and the commercialization of science.

Tickets and Seating
Floor seats can be reserved via our online ticket ordering system. Online sales close 2 hours before each show. If any floor seating remains, it will be available at the door.
Box office opens at 6:30 p.m. for general (bleacher) seating or any remaining floor seating.
All tickets, ordered online or at the door, are 'Pay what you can'. Thank you in advance for your payment!
ORDERS OPEN ON OCTOBER 2
---
Recording of Show
Family and friends from near and far will be able to view a recording of the Thursday show with the purchase of a link to the recording for $20.
Recording orders close on Saturday, Nov. 11. A link to the recording will be emailed to you on Sun., Nov. 5 if purchases are made before Nov. 5. For purchases after that, you'll receive the link with your purchase. Video questions? Contact Mr. Zavaleta at tzavaleta@bishopchatard.org
ORDERS OPEN ON OCTOBER 2


Ordering tickets for multiple shows: Choose your seats for one show. On the Checkout Page, use the 'CONTINUE SHOPPING' button to find and order tickets for other shows or the recording.
During checkout, you have the option of creating an account with a password or ordering as a guest. You can always create an account later, if needed, using the email you ordered with.
To login to your account: In the upper right of the ticketing software, use the sign in/ sign up area. In your account, you can see your order, print your tickets, or make changes to your seating. If you have any questions, don't hesitate to contact Kristen Christenberry at mrskc327@gmail.com Please include your confirmation numbers and the change you want to make.
---
Order an Ovation, Become a Show Sponsor or BCHS Theatre Patron
Support the cast/crew of the fall play and the BCHS Theatre program through an Ovation to your theatre student to be displayed in the playbill. Or, become a show sponsor with an ad in the playbill or a Theatre Patron with a donation in any amount through our form below. Patron, ovation, ad questions? Contact Amy Taylor at taykoz44@hotmail.com
To be listed in the show's playbill, payment is due Oct. 23.
COMING SOON: Ovation, sponsor and patron order form.
$10 'Ovations': These include the student's name and a message up to 100 characters long.
$35 'Ovations': These are 1/4 page and include the student's name, a message up to 100 characters long and a picture/graphic you provide.
Show Sponsor: $300. Includes a full page ad and a pre-show mention
Program Sponsor: $150 (full page ad)/ $90 (half page ad)
Theatre Patron: Become a patron of BCHS Theater with a donation in any amount through our form
Order deadline is October 23, 2023
Thank you for your support of Bishop Chatard Theatre!