In an effort to assist students in their career exploration process, sophomores, juniors and seniors will have the opportunity to hear from Bishop Chatard alumni career speakers each quarter during Seminar A in the theatre room.
Signup for Q3 Seminar speakers is now open.
Each student is expected to sign up for at least one career seminar this quarter during Seminar A.
You are welcome to attend multiple seminars if you are interested in more than one.
Signup via the form below. Be sure to sign up early as space will be limited for some of the presentations.
Open Signup Form
Note: You need to be signed in to your BCHS email to open this form.
January 24, 2023 (Tues): Seminar A: 11:05-11:35
Bill and Pat Kennedy graduated in 2008 from Bishop Chatard High School. Bill and Pat both  attended IU Kelley School of Business.  Bill then attended Ball State for his MBA. Pat attended Hobart Institute of Welding Technology.  Bill is the President and Pat is the welder for the shop at their 125-year old family-owned business. Kennedy Tank & Manufacturing Co. designs and fabricates custom shell and tube heat exchangers, pressure vessels, and steel tanks. Topic: Sales, Business, Welding Trade
January 31, 2023 (Tues): Seminar A: 11:30-11:55
Sussan O'Brien is a 1987 graduate of Bishop Chatard and went to the University of Evansville to study Physical Therapy. She has worked for Community Health Network for 30 years. She is currently the Leader of the Stroke Recovery Program at Community Rehab Hospital on the Northside campus. Topic: Physical Therapy
February 14, 2023 (Tues): Seminar A: 11:05-11:35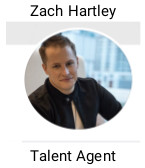 Zach Hartley is a 2009 graduate of Bishop Chatard. He attended Ball State University. Zach currently works as a talent agent at United Talent Agency in Nashville, TN. UTA is one of the world's leading talent and entertainment companies. Topic: Entertainment Business
February 21, 2023 (Tues): Seminar A: 11:05-11:35
Sia Nyorkor is a 1996 graduate of Bishop Chatard High School. Sia studied journalism at Indiana University and attended graduate school at Columbia University. She is an award-winning Reporter & News Anchor at WOIO 19 in Cleveland, Ohio. Topics: Journalism, Television