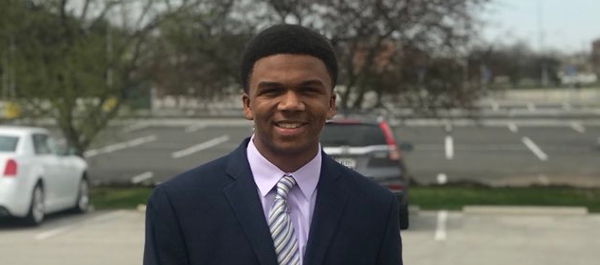 Edreece is one of nine rising juniors who will join nine seniors to represent more than 160,000 student-athletes from 410 IHSAA member schools.
Each year, the IHSAA receives nominations from IHSAA member schools. From that group of nominations, 20 are selected for interviews by members of the IHSAA Executive Committee, executive staff and returning members of the SAC. From those interviews, nine rising juniors are invited to join the group of nine returning seniors.
Read about his experience on the committee in the following article, by John Shaughnessy, from The Criterion, January 25, 2019
The smile of Edreece Redmond is quick and full of light, and it flashes often during a conversation about the defining ways he represents high school student-athletes in Indiana.
The junior from Bishop Chatard High School in Indianapolis is one of the 18 members of the student advisory committee of the Indiana High School Athletic Association (IHSAA)—a committee that represents more than 160,000 student-athletes from 410 high schools across the state.
One of the captains on Bishop Chatard's basketball team, Edreece is the only member on the committee who is from a non-public school.
"It's big—not only to represent all Catholic schools, but Chatard especially," say Edreece, who is 17. "I'm the only African-American, too, so that's big to represent that community."
As he shares these two realities, he does it with a sense of humility, respect and responsibility—just some of the qualities that define him, according to those who interact with him often. In fact, they say, he represents the best of high school student‑athletes, the ones who strive for success in the classroom, savor their bonds with their teammates and classmates, want to make a difference in their community, and give their all to their school and their sport.
"You couldn't ask for a better student-athlete," says Kerrie Schludecker, an assistant commissioner for the IHSAA who works with the student advisory committee. "He works hard, he's coachable, and his respectfulness and his personality stand out. He's always smiling."
"Academically, he's a high honor roll student, so he gets it done where it's most important," says Mike Ford, Bishop Chatard's athletic director. "He's also a very humble individual even though he's a high achiever."
Brian Shaughnessy has coached Edreece at the varsity level for three years. He also has him as a student in a religion class for juniors. In basketball, Edreece's coach describes him as "incredibly determined and driven, a gifted athlete but humble." As an example, he recalls how Edreece reacted when he had a game where he believed he didn't live up to his personal standards. After the game that night, Edreece spent an hour in the gym working to improve.
As his teacher, Shaughnessy sees a "focused, thoughtful" student who is equally dedicated in the classroom.
For Edreece, his approach to both sports and studies comes down to a basic philosophy.
"Go as hard in the classroom as I do on the court," he says. "On the court, I want to be the best. If I do that, I have to put my best foot forward in class, too."
Still, Edreece's greatest attribute may be the way he relates to other people, Shaughnessy says.
"He is all class—as respectful, supportive, trustworthy and grounded a young man as you're likely to meet. He is good to everyone I see him interact with, all the way down to my 3-year-old daughter.
"He is an amazing leader. He is a complete advocate for his teammates. They know he cares about them, has their back, and will put himself on the line for the team."
Known for his natural smile, Edreece's brightest one comes when he talks about his teammates.
"We're all really close on and off the court," he says, noting how they often go to breakfast together after a Saturday morning practice. "I want us to feel like a brotherhood, which it is on our team. I also want them to know that if there's anything that they're facing off the court, we're all here for each other."
Edreece is working to create that same sense of inclusion in another special way through his involvement with the IHSAA committee. One of the responsibilities of the 18 members is to start a "Champions Together" program at their high school.
"It's bringing together kids with special needs with students here, and then have them compete in activities together. I think we'll do bowling," Edreece says. "Coming up, we'll have a school assembly to get students interested in working with special needs students and raising money for the events."
He views his involvement in the "Champions Together" program as another way to develop as a leader, another way to share his gifts to make a difference in the lives of other people. They're qualities and desires, he says, that have been enhanced through the education he has received at Bishop Chatard.
"It's really built me up as far as who I am as a person. Just the community—how close we are. It's put me in a position of leadership that maybe I wouldn't have at other schools. The relationships I've built with teachers and friends are really close. They're always there for you. They genuinely care for you."
Bishop Chatard student-athlete Edreece Redmond is one of 18 high school students from across Indiana chosen to serve on the Indiana High School Athletic Association's 2018-2019 Student Advisory Committee (SAC).
What is the SAC?
The SAC meets four times annually – twice each semester – and is responsible for hosting meetings with student peers at the Fall Area Principals Meetings, assisting with the awards ceremonies at IHSAA state championship events throughout the school year, and planning and administering the annual IHSAA Student Leadership Conference in June. SAC members also engage in and support the activities of Special Olympics Indiana including the Unified Track & Field State Tournament and, new next Fall, Unified Flag Football.
Other SAC functions include the development of an IHSAA Captain's Handbook which is posted to IHSAA.org as well as assisting in the creation of multiple public service announcements addressing good sporting behavior which will be utilized during 2018‐19 state championships events.