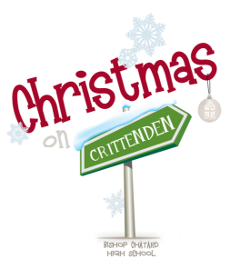 When: Friday, November 30, 2018
Time: 6:00 to 8:00 p.m.
You never know what you'll find in this event, geared toward the children of BCHS families, staff, alumni and friends. Take a holiday sleigh ride… Santa and Mrs. Claus will definitely be there to take your child's (or grandchild's) wish list!
Christmas on Crittenden will be held on Friday evening, November 30, 2018.

Photos with Santa and Mrs. Claus

Sleigh Rides around the BCHS track

Music, Crafts and Games

Cookie Decorating

Inflatable Obstacle Course

BCHS Spirit Shoppe will be open

Fun for all!
The event is free, but freewill offerings are appreciated.

Questions? Contact Robin Kontor, rkontor@bishopchatard.org.