2019-2020 Breakfast
Breakfast at BCHS is served Tuesday – Friday, beginning at 7:15 a.m. and Monday, beginning at 8:15 a.m., at the landing inside Door #10. Students can use their lunch codes to purchase items.
VIEW BREAKFAST MENU
Breakfast "Meal Deal"
Breakfast Meal Deal consists of at least 3 but up to 4 of any of the following items: Milk, juice, fruit and breakfast biscuit/muffin.
$2.00 for students; $2.50 for adults
Free or reduced school meals program: students receive that benefit for breakfast too ($.30 for reduced price)
Ala carte items will be available for purchase at various prices. See Breakfast Menu above for those prices.
2019-2020 Lunch
Students may bring a lunch or lunch may be purchased from the school cafeteria using cash, check or Bishop Chatard's online payment system, MyMealTime.com.
VIEW LUNCH MENU
Lunch Details and Meals
The Meal Deal, a selection from several main courses and side options, costs $3.25 ('B' Meal: $3.75, Super Meal Deal $4.25)
The "Grab & Go" area features a variety of lunch items including grilled, buffalo, or fried chicken sandwiches, cheeseburgers, hamburgers, various entrees, salads, wraps, penne pasta with sauce, school pizza and other enticing selections. A salad bar is also available.
Understanding the Lunchline: A Parent's Guide to Meals
Paying for Lunches
Pay online at MyMealtime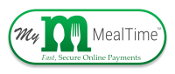 NEW! Read about their mobile app to manage your account
FAQs about MyMealTime at BCHS
Pay by cash or check
Cash or check (payable to Bishop Chatard) in an envelope with student's name, grade and ATTN: Michael Dlugosz. Bring to the school receptionist or mail to: Bishop Chatard High School, Attn: Michael Dlugosz, 5885 Crittenden Ave, Indianapolis IN 46220. Please do not mail cash.
Check or cash at any cashier station in the cafeteria during the lunch periods. Change from cash will be returned on all days except Monday. No change will be given on Mondays. The change from all money handed to the cashier on Monday will enter into the student's account.
Please note: Students who owe more than $10 on their cafeteria lunch accounts will be offered an alternate meal.Please make sure there is ample money in your student's MealTime account to pay for lunches. Cash and checks are also accepted at any cafeteria cashier station during the lunch period.
Request for Special Dietary Needs
Read our handout about the process of requesting special diets and the form to submit the request.
Dietary Request Process and Form
Free/Reduced School Meals Program
If you feel you might qualify for Free or Reduced school meals, application for this program can be made online through MyMealTime. (Paper applications are also available.) Questions? Contact Michael Dlugosz, Cafeteria Manager, at mdlugosz@bishopchatard.org or 317-251-1451, Ext. 2240.
Read about the Free/Reduced School Meal Program and Application
This institution is an equal opportunity provider.
USDA Child Nutrition Program Non-Discrimination Statement
Summer Programs
The Summer Food Program for Children (SFSP) serves meals to children when the National School Lunch/Breakfast Program is not available during the summer. 2018 locations for the program will be published in May/June.