---
---
Payment Options
Currently, BCHS does not accept payment at the point of sale. Students pay for their lunch with a BC issued ID card connected to their Mealtime account. Money can be deposited into this account via either of the 2 following methods:


Deposit money online via MyMealTime
MyMealTime is a point of sale system in which your account can be "loaded" with money and used as needed to purchase food in the cafeteria at lunch and before and after school. We encourage you to use this system. It also tracks purchases and gives low balance warnings.


Deposit Cash or Check in the dropbox
Submit cash or check (payable to Bishop Chatard) in envelope with student's name and six-digit ID number. Place in the dropbox outside the Cafeteria office (bottom of the stairs, Door #10) or mail to: Bishop Chatard, Attn: Michael Dlugosz, 5885 Crittenden Ave, Indianapolis, IN 46220. Please do not mail cash. This money will be credited to the student's MyMealTime account. Allow 24 hours for processing.
How to create your online account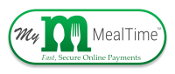 Go to MyMealTime.com and click on "Register Now for a free account."
Create your own username and password, fill in the required fields, and follow steps to register your account.
When adding your student, use your student's ID number (the number part of their BCHS email address) as the Student ID/PassCode.
Note: During this process, be sure to double click on "Bishop Chatard" when selecting the school.
What you can do with your online account
Track student purchases and receive low balance warnings
Apply for the free or reduced lunch price lunch (Details about the program)
Set additional controls on an individual basis for things such as diet restrictions or use of funds per the parent's request
Deposit money into the account online. There is a 4.9% user fee to deposit money online. You are not required to deposit money to use the other features.
Step One: BCHS creates an account for each student
Each student automatically has a MyMealTime debit account, with their personal PIN (Their PIN is the same as their BCHS student ID number – the number part of their email address).
Step Two: You deposit money into the account
This can be done in any of the following ways:
Checks or cash for deposit into your Mealtime account may be dropped off in the dropbox outside the cafeteria office at the bottom of Door #10. Please be sure to include the student's name and ID number on the check. Allow 24 hours for processing.
Pay online via MyMealTime.com with a credit or debit card. See Manage Your Account above for directions. (Convenience fee of 4.9% is charged to use this method of payment).
Step Three: In the Lunch Line
Students scan the barcode on their BCHS student ID card at checkout to charge their account. The cashier sees the name and picture that corresponds to the scanned card.

It is our expectation that students always have a positive balance in their lunch accounts. As a courtesy to our families, BCHS has establish a "$10.00 overdraw limit". If your student's account is more than $10.00 in the negative, parents will be contacted by the Cafeteria manager. Please be aware that at no time will a student ever be denied lunch because of their account status.
Senior's Accounts: All negative accounts must be reconciled by graduation to receive cap and gown. Seniors with a positive balance over $20 will be refunded after July 1 of the graduation year. Account balances may also be transferred to incoming family members by a formal parental request (via phone or email). Balances under $20 will be donated back to the school unless a formal request is made by July 1 of the graduation year.
Low Balance Notification:It is easy to set up a notification with Mealtime to receive an e-mail when the accounts are low. Negative lunch balance notifications by e-mail are sent out weekly.
Spending Limits: These can be set up by the cafeteria staff to limit how much and on what a student may spend. If you have any questions or concerns, please call the cafeteria manager directly at 317-255-1451 ext. 2240 or e-mail mdlugosz@bishopchatard.org. We are happy to answer all inquiries.

If a parent is concerned by the amount a student is spending, a spending limit can be added to the account. Please call the Director of Food Services, Michael Dlugosz, 317-255-1451 ext. 2240, between 9:00 a.m. – 2:00 p.m. to discuss your options.
---
Free/Reduced Meal Program
Applications for 2022-23 school year open July 1, 2022.
---
Important Notes for All
Families are not required to use MyMealTime. This system has been created for the convenience of our school families. Besides streamlining the lunch process, the system protects the anonymity and confidentiality of students who qualify for free or reduced meals.
Applications for free or reduced price lunch can easily be made through your MyMealTime account.
Currently we do not accept cash payment at the point of sale.
You are not required to deposit money online to receive the other services (tracking account balances, spending history, etc.) the site offers.
When you deposit money online using a credit or debit card, there is a

convenience fee of 4.9% assessed

for the service of using your credit/debit card.
If you deposit funds by check and the check is returned for insufficient funds, we will charge the student's account a

$25 fee for insufficient funds

as this is the amount Bishop Chatard is assessed.
If you have any questions, please contact Michael Dlugosz, Director of Food Services, at 317-251-1451, Ext. 2240 or mdlugosz@bishopchatard.org
---
This institution is an equal opportunity provider.
In accordance with Federal civil rights law and U.S. Department of Agriculture (USDA) civil rights regulations and policies, the USDA, its Agencies, offices, and employees, and institutions participating in or administering USDA programs are prohibited from discriminating based on race, color, national origin, sex, disability, age, or reprisal or retaliation for prior civil rights activity in any program or activity conducted or funded by USDA.
Persons with disabilities who require alternative means of communication for program information (e.g. Braille, large print, audiotape, American Sign Language, etc.), should contact the Agency (State or local) where they applied for benefits. Individuals who are deaf, hard of hearing or have speech disabilities may contact USDA through the Federal Relay Service at (800) 877-8339. Additionally, program information may be made available in languages other than English.
To file a program complaint of discrimination, complete the USDA Program Discrimination Complaint Form, (AD-3027) found online at: http://www.ascr.usda.gov/complaint_filing_cust.html, and at any USDA office, or write a letter addressed to USDA and provide in the letter all of the information requested in the form. To request a copy of the complaint form, call (866) 632-9992. Submit your completed form or letter to USDA by:
(1) Mail: U.S. Department of Agriculture
Office of the Assistant Secretary for Civil Rights
1400 Independence Avenue, SW
Washington, D.C. 20250-9410;
(2) Fax: (202) 690-7442; or
(3) Email: program.intake@usda.gov.