What is the Trinity Club?
The Bishop Chatard Trinity Club is the original parent organization at BCHS still going strong today. Participation can be social, educational or spiritual in nature.

Every parent is a member of Trinity Club – no signups or dues to pay! Simply by being a parent or guardian, you are a member and will receive emails about upcoming events to attend and opportunities to volunteer.
Trinity Club is a great way to get involved in our BCHS community!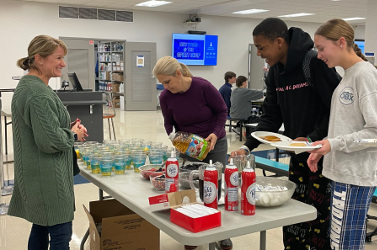 The Trinity Club Mission
Trinity Club models the relationship of parent-school-student on that of the Father-Son-Spirit, the very foundation of our faith, through these three pillars of Service-Connection-Prayer. Participation in the Trinity Club provides an invaluable resource to our students and community.
Trinity Club:
Serves – By offering many opportunities throughout the year to volunteer for things such as Teacher Lunches, Grandparent Masses and Chatard-A-Bration
Connects – By providing social and educational events for our community
Prays – In person when we gather to pray the rosary at different times of the year or, when not able to be physically present at various events, by encouraging all to pray for our community
How to become involved
Watch the Weekly Parent Newsletter for info on upcoming events
Use the Volunteer Form (button below) to specify your interests to volunteer for events or at the school: Volunteers are always welcome and many opportunities are available to utilize your time and talent.
Volunteer Form
Watch for 'Signup Genius' forms that will be emailed to all as needs arise. Some needs are in person, some are donation item requests. Pick and choose what works with your schedule at that time. You can help as many times as you wish, or, if the time is not right when you receive a request, you can pass and look for the next opportunity.
Follow us on Facebook or Twitter for the most up to date information.

 @BCTrinity
 @BCTrinityClub
For the safety and well-being of all students, the Archdiocese of Indianapolis has instituted safety protocols by which all employees and volunteers of its Catholic schools must abide. All adults who will be volunteering in any Bishop Chatard activity at which students are present are required to participate in the Child Safety online safety training program. Please complete this program before you volunteer. 
If you have completed the program at your parish, you don't need to complete it again. Email Libbie Steiner, Executive Director of Mission Integration, at Lsteiner@bishopchatard.org to let her know you've already taken it.
This program is online, taking about 45 minutes to complete. The program can be accessed the following link: https://www.archindysafeparish.org/. Passcode is Archindy2021.

Contact Trinity Club
For any questions or concerns, please contact the 2023/2024 Trinity Club Leadership Team at: BCTrinityClub@bishopchatard.org

Jennifer Priser (chair)
Amy Kinsey Corbett
Nicole Duncan
Jenny Forsee
Deanna Murphy
Amy Treida
Katie Waggoner