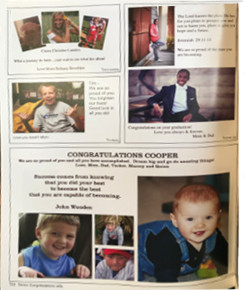 Class of 2020 Yearbook 'Baby Ads'
A popular BCHS tradition, Senior Congratulatory Ads, commonly know as 'Baby Ads', offer parents of seniors the opportunity to leave lasting well wishes to your graduate and the Class of 2020 in the Citadel, the BCHS yearbook. The money you pay continues to support the school and helps to defray the cost of the yearbook.
Beginning Dec. 1, parents can create the ad themselves online. All submissions and payment is due by Feb. 3, 2020. This is a FIRM deadline! You will have three options for ad creation: 1) BCHS can design the ad for you, which allows you to drop off photos at the school; 2) upload your own designed ad or 3) design your ad with the software walking you through the process.
HOW TO CREATE and PLACE YOUR AD
Read below before starting

DON'T USE A MOBILE DEVICE, such as a phone or iPad to place your order. This software will ONLY work on laptops or desktops.
EVERYONE should start with the online form to enter your information, even if you are dropping off your message, photos or payment to BCHS. That allows us to keep track of every senior and his/her advertisement choices.
Before beginning, have your photos, message and payment ready when you log onto the site. Ads must be completed, paid for and submitted at one time. There is no way to save an incomplete ad.
Photos can be uploaded, messages added and payment (via PayPal or credit card) made for your ad online — or —
During checkout, you can indicate that you are mailing in payment, photos or messages. Make any checks payable to Bishop Chatard High School. Enter 'yearbook ad' in the memo line and mail or bring to: Bishop Chatard High School, ATTN: Citadel Yearbook/Tracy Luke, 5885 Crittenden Ave, Indianapolis, IN 46220.
Any physical photos given to BCHS will be returned as soon as possible. We scan and return them; they are not sent to the publisher.
Large photos can be resized to fit; we ask that no nude photos, regardless of age, be submitted.
Please note – you will not have the space for the advertisement until an ad is paid for. Ads will be accepted on a first-come, first-served basis, as space is limited. So, complete your ad request as soon as possible to reserve your space in The Citadel.
Each senior receives a yearbook, so there is no need to purchase one.
BEGIN YOUR 'BABY AD' HERE
DEADLINE IS FEBRUARY 3, 2020
Due to our yearbook deadline, NO ADS CAN BE ACCEPTED AFTER THIS DATE.
Due to space limitations, we may have to reject ads if the limit is reached, so early submission is recommended.
ORDERS WILL NOT BE CONSIDERED FOR THE YEARBOOK UNTIL PAYMENT AND PHOTOS ARE RECEIVED.
Questions? Contact Tracy Luke, at tluke@bishopchatard.org
---
Example showing Baby Ad sizes
Full Page (9″ x 12″): $250
Half Page (9″ X 6″): $165
Quarter Page (4.5″ x 6″): $100
Eighth Page (4.5″ x 3″): $65