Class of 2023 Living Rosary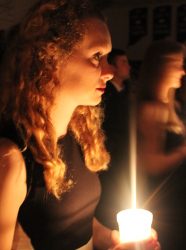 Date: October 4, 2022 – Tuesday
Time: 8:50 a.m.
Place: BCHS Main Gym
The Living Rosary is the longest-standing tradition at Bishop Chatard, initiated by the first graduating class at BCHS. This will be the 58th Living Rosary in the school's history. The seniors 'become' the rosary as the community together prays the mysteries. The ceremony honors Mary, Queen of Heaven, as the patroness of our school and announces the formal beginning of the senior year in prayer to Mary.
All seniors, including those who are not Catholic, are encouraged and expected to join in this celebration.
Details
Class of 2023 Parents/Guardians:
The Living Rosary will begin at 8:50 a.m. in the main gym and last approximately 45 minutes. Please plan to arrive between 8:15 and 8:45 a.m. Feel free to bring your own rosary or we will have some to distribute as well.
Seniors: Seniors need to arrive at school no later than 7:45 a.m. and will report directly to the auxiliary gym. They will be dismissed for the day following the prayer service and reception. Please read and follow the Dress Code below for the celebration.
Parking: Parking will be available in the Bishop Chatard back parking lot and along the east side of Crittenden Avenue (the BCHS side). The city prohibits parking on the west side of Crittenden Ave (the Christ the King side).
Senior Dress Code
Gentlemen:
A solid white, button-down, collared shirt, a dark solid color tie, and a dark sport coat or suit jacket. Sport coats and suit jackets may be black, navy blue, or dark gray in color. Tie should be tied properly. Shirts should be tucked into pants. Dark dress pants (black, navy blue, or dark gray) with a dark belt, dark-colored socks, and dark dress shoes. Gentlemen must be clean-shaven and neatly groomed.
Ladies:
Option One: A dark solid dress (may have some white accent, but no print) with sleeves or wide straps (no strapless, spaghetti straps, plunging necklines or backless dresses unless a dark sweater is worn on top). Dresses should not have large slits or uneven hemlines, and should not be too tight or form-fitting. The hem of the dress must reach the top of the kneecap. Dark, opaque, non-patterned tights may be worn but are not required. We encourage ladies to wear a dark sweater, cardigan, or blazer since it is often quite cool in the gym, but it is not required.
Option Two: A dark dressy top/blouse or a white, loose-fitting, opaque (not transparent) dressy top/blouse with dark dress pants (no tight-fitting pants or leggings) or dark solid skirt (again, not too tight or form-fitting, with a hem that extends to the top of the kneecap).
All Seniors
Dress shoes are required for all seniors. This means no sneakers, slides, Crocs, or boots. Shoes should be dark or neutral, flats or low-heeled. This is a safety issue since you will be walking in a mostly-dark gym. Open-toed dressy sandals are acceptable, but no flip-flops, please.
Questions? Contact Libbie Steiner, Executive Director of Mission Integration, at Lsteiner@bishopchatard.org