Class of 2020 Living Rosary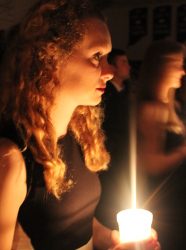 Date: October 2, 2019 – Wednesday
Time: 9:00 a.m. (New Time)
Place: Bishop Chatard Gymnasium
Reception: for seniors and their parents following the service
The Living Rosary is the longest-standing tradition at Bishop Chatard. The seniors 'become' the rosary as the community together prays the mysteries. The ceremony honors our patroness, Mary, Queen of Heaven and announces the formal beginning of the senior year in prayer to Mary. Seniors are not required to participate; however, all seniors, including those who are not Catholic, are encouraged to join in this celebration. All parents and alumni are most cordially invited and encouraged to join us too.
Parent Letter
Details
Parents/Guests: Please plan to arrive between 8:15 and 8:45 a.m. There will be seating reserved for guests in the middle portion of the bleachers. The Living Rosary will begin at approximately 9:00 a.m. and last approximately 45 minutes. Parents and seniors are invited to a brief reception in the cafeteria after the Rosary.
Parking: Parking will be available in the Bishop Chatard parking lot, along the east side of Crittenden Avenue. The city prohibits parking on the west side of Crittenden Ave.
Note: Our policy requiring all visitors to enter Door #1 will be suspended that morning. Guests parking in our back parking lot may enter Door #10 and proceed to the gym.
Seniors: Seniors need to arrive at school no later than 7:45 a.m. and report directly to the auxiliary gym. The seniors will be released for the day following the reception.
Dress Code for The Living Rosary
Gentlemen:
Solid white shirt, tie, dark sport coat or suit jacket (jacket is worn only for the Living Rosary), dark (blue, black, charcoal) dress pants with a belt, dark colored socks, and dress shoes. Boys should be groomed and clean-shaven; no facial jewelry.
Ladies:
Option A:
A dark solid dress (may have some white accent, but no print) with sleeves or wide straps (no strapless, spaghetti straps, plunging necklines or backless dresses unless a dark sweater is worn as well). Dresses should not have large slits or uneven hemlines, and should not be too tight or form fitting. The hem of the dress must extend to the top of the kneecap.
Option B:
A white loose-fitting opaque (not transparent) or a dark top/blouse with dark slacks (no capri or tight-fitting pants) or dark solid skirt – again, not too tight or form-fitting, with a hem that extends to the top of the kneecap.
General: Hair should be well-groomed. No facial jewelry or large dangling earrings. Dress shoes are required. Shoes should be dark or neutral in color. Open-toed shoes are acceptable, but no flip-flops. Flat/low heeled shoes are required for Living Rosary. This is a safety issue.
If you are in doubt with your clothing choice, please ask an administrator (Mrs. Taylor).