Class of 2021 Living Rosary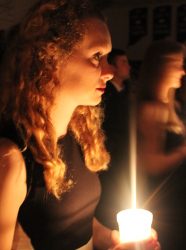 Date: October 13, 2020 – Tuesday
Time: 9:00 a.m.
Place: Bishop Chatard Football stadium
The Living Rosary is the longest-standing tradition at Bishop Chatard. This will be the 56th Living Rosary in the school's history. The seniors 'become' the rosary as the community together prays the mysteries. The ceremony honors our patroness, Mary, Queen of Heaven and announces the formal beginning of the senior year in prayer to Mary.
All seniors will participate, regardless of blue and white days. Parents and guardians of the Class of 2021 seniors are invited to attend. All underclass students in the 'Blue Group' will attend. (Please dress for the weather.)
View Livestream of the event
Details
Class of 2021 Parents/Guardians: The Living Rosary will begin at 9 a.m. and last approximately 45 minutes. Please plan to arrive between 8:15 and 8:45 a.m. The center section of the bleachers in the football stadium will be reserved for two family members of each senior. Please sit on the marked seats to ensure adequate social distancing. Masks are required. In the event of rain, the Living Rosary will be postponed to Thursday, Oct. 15.
Seniors: Seniors need to arrive at school no later than 7:45 a.m. and report directly to the main gym. Seniors will be released for the day following the liturgy.
Parking: Parking will be available in the Bishop Chatard parking lot and along the east side of Crittenden Avenue. The city prohibits parking on the west side of Crittenden Ave.
Senior Dress Code
Gentlemen:
Solid white shirt, tie, dark sport coat or suit jacket, dark dress pants with a belt, dark colored socks, and dress shoes. We ask that our young men be well-groomed and clean-shaven.
Ladies:
A dark solid dress (may have some white accent, but no print) with sleeves or wide straps (no strapless, spaghetti straps, plunging necklines or backless dresses unless a dark sweater is worn as well). Dresses should not have large slits or uneven hemlines, and should not be too tight or form fitting. The hem of the dress must extend to the top of the kneecap. The weather may be cold, so we encourage ladies to wear a dark sweater or wrap. OR: A white loose-fitting opaque (not transparent) or a dark top/blouse with dark slacks (no capri or tight-fitting pants) or dark solid skirt (again, not too tight or form-fitting, with a hem that extends to the top of the kneecap).
Please do not wear large dangling earrings. Dress shoes are required. Shoes should be dark or neutral flats (this is a safety issue on the field). Open-toed shoes are acceptable, but no flip-flops, please.
Questions? Contact Mr. Patzke, Executive Director of Mission Integration at spatzke@bishopchatard.org