Junior Fellowship Retreat
---
The centerpoint of this retreat is understanding how much God loves us and those around us. These Fellowship retreats will be three days long (two overnights) and take place throughout the school year to accommodate for the schedules of busy juniors. Along with faculty and staff leaders, Marian University San Damiano Scholars and students pursuing leadership in the Church will provide a meaningful retreat.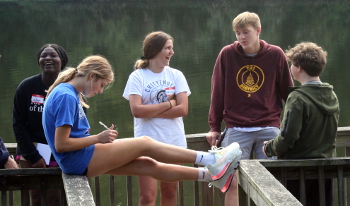 Most of these elements are surprises, so we appreciate the continued honor that belongs to this hugely formative retreat experience.
Retreat Details
The Junior Fellowship Retreats are held at Fatima Retreat House, 5353 E 56th St., Indianapolis, IN 46226. Students need to be dropped off there no later than 8:30am. More details will be communicated as the specific dates approach.
Parent Permission Form
2023/2024 Retreat Dates
Junior Retreat #1: November 1-3, 2023
Junior Retreat #2: November 8-10, 2023
Junior Retreat #3: February 28 – March 1, 2024
Junior Retreat #4: April 3-5, 2024
---
2023-2024 Retreat Rosters
If you don't see 4 columns of rosters, swipe right or use the scrollbar at the bottom of the box to view them.