Junior Fellowship Retreat
---
New for 2022-23 year! Juniors will be attending the retreat that has traditionally been held in the senior year!
---
While the retreat has a new name – Fellowship – all of the parts of Christian Awakening that you know and love will stay the same.
The centerpoint of this retreat is understanding how much God loves us and those around us. These Fellowship retreats will be three days long (two overnights) and take place throughout the school year to accommodate for the schedules of busy juniors. Along with faculty and staff leaders, Marian University San Damiano Scholars and students pursuing leadership in the Church will provide a meaningful retreat.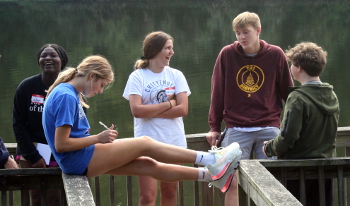 Why the change?
Having this retreat in the junior year will afford students the opportunity to continue intentionally growing in their relationship with Jesus while we can continue to form them and have them invest back into student life.
In addition, many alumni and current seniors who attended Christian Awakening in their senior year have lamented not having enough time to continue building new relationships with their classmates that they got to know on retreat. Now that this retreat happens in the junior year, those relationships can continue to grow for another year.
Most of these elements are surprises, so we appreciate the continued honor that belongs to this hugely formative retreat experience.
2022/2023 Retreat Details
Junior Retreat #1: October 30 – Nov. 1, 2022
Junior Retreat #2: January 18 – 20, 2023
Junior Retreat #3: January 29 – 31, 2023
Junior Retreat #4: February 26 – 28, 2023
Details and rosters will be posted when available.