Faith Life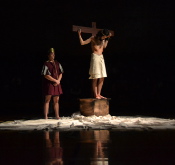 The Office of Campus Ministry focuses on individual faith formation by providing weekly Mass and Reconciliation, daily prayer opportunities, liturgical events, retreats and individual pastoral guidance for students and faculty. The importance of individual participation and Christian unity among school community members is promoted, and the liturgical seasons of the Catholic Church are incorporated into all school liturgy planning.
In order to encourage a connection with the wider Catholic community, North Deanery pastoral leaders are invited to all campus ministry events.
---
Christian Leadership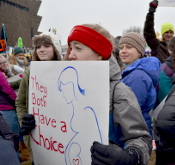 Campus ministry is designed to encourage students to embrace leadership from the perspective of being a Christian role model.
Students play an integral part of all campus ministry activities, especially the school's liturgical events. In addition, a core team of juniors and seniors are trained to serve as team members for the underclass retreats.
Campus ministry is responsible for organizing and training adults and students to share their faith and gifts in order to create a sense of Christian community at Bishop Chatard.
Explore our faith-based leadership and mission trip opportunities
---
Service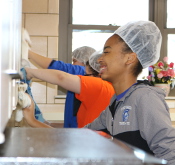 The Office of Campus Ministry assists students in fulfilling Bishop Chatard's minimum service hour requirements by informing students of opportunities for service, as well as tracking the number of service hours completed. A calendar of service opportunities is maintained by campus ministry to assist students in their efforts to serve.
While teachers and staff members throughout Bishop Chatard support service opportunities and work with students to help them fulfill this important part of the Bishop Chatard mission, the true success of the service program rests is dependent on the commitment of our young men and women.
Read more about our service program
---
Retreats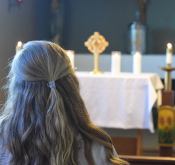 Bishop Chatard supports a structured retreat program designed to enable students at every grade level to reflect on God's presence in their everyday lives and how they might bring God's presence to others through discipleship. The retreat experiences allow each student an opportunity to connect their knowledge of faith and Christian values with actual life situations. The goal of each retreat is to bring the students to Christ in order to reiterate the importance of having Christ at the center of one's life.
Freshmen attend a day of reflection during the school day, while sophomores attend a one-day retreat experiences at CYO Camp Rancho Framasa. Juniors have the opportunity to attend an overnight retreat. The retreat program culminates with the Christian Awakening Retreat, an extended retreat experience that occurs during senior year.
Holy Land Pilgrimage
Bishop Chatard, along with Verso Ministries, is planning a pilgrimage to the Holy Land for Bishop Chatard and North Deanery students, parents and friends, Dec. 27 to Jan. 5, 2018. This journey will be led by Fr. Doug Hunter.
Visit Verso Ministries for more information about the trip
Flyer with details of the trip
Questions? Contact Carol Wagner at cwagner@bishopchatard.org
New Outreach Opportunity Calendar
We recently added a new calendar which lists the service opportunities that qualify as 'Outreach' Opportunities, for those students needing that type of service experience. A link to the calendar is available on the Service Opportunities Calendar page.
---
2018/2019 School Theme
Useful Links
United State Conference of Catholic Bishops (usccb.org)
The Criterion, the Archdiocese Weekly Newsmagazine
The Archdiocese of Indianapolis offers an array of young adult ministry, college ministry, and numerous events throughout the year for those ages 18-25. See more at:
www.indycatholic.org
Resources for families
As tragic deaths happen around us, whether close by to people we know or in the world at large, we wonder how to make sense of the sorrow and loss. Youth especially often struggle to handle sadness they have or to console those they know who are feeling the loss deeply.
We offer these resources below as a starting place for any parent to recognize suffering and guide their child in coping with their feelings or depression.
If you, as a parent or student, have any concern or questions, please do not hesitate to contact someone at the school who you feel comfortable with. Anyone in the Campus Ministry department, the Guidance Department, a close teacher or administrator at BCHS will be more than happy to guide you. Other parents may also be a help.
Depression and Suicide Resources