Faith Life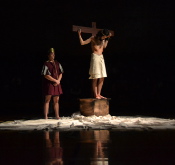 The Office of Campus Ministry focuses on individual faith formation by providing weekly Mass and Reconciliation, daily prayer opportunities, liturgical events, retreats and individual pastoral guidance for students and faculty. The importance of individual participation and Christian unity among school community members is promoted, and the liturgical seasons of the Catholic Church are incorporated into all school liturgy planning.
In order to encourage a connection with the wider Catholic community, North Deanery pastoral leaders are invited to all campus ministry events.
---
Service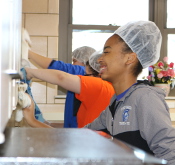 The Bishop Chatard service program utilizes a "just get them started" philosophy. We require a minimum number of service hours so that students are exposed to the gift of serving others. Once immersed in service, students quickly see the benefit to others as well as to themselves – they are being formed as Christian servants.
While teachers and staff members throughout Bishop Chatard support service opportunities and work with students to help them fulfill this important part of the Bishop Chatard mission, the true success of the service program rests is dependent on the commitment of our young men and women.
Read more about our service program
---
Retreats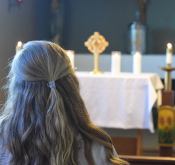 Bishop Chatard supports a structured retreat program designed to enable students at every grade level to reflect on God's presence in their everyday lives and how they might bring God's presence to others through discipleship. The retreat experiences allow each student an opportunity to connect their knowledge of faith and Christian values with actual life situations. The goal of each retreat is to bring the students to Christ in order to reiterate the importance of having Christ at the center of one's life.
Freshmen attend a day of reflection during the school day, while sophomores attend a one-day retreat experiences at CYO Camp Rancho Framasa. Juniors have the opportunity to attend an overnight retreat. The retreat program culminates with the Christian Awakening Retreat, an extended retreat experience that occurs during senior year.
View Retreat Details and Schedules
---
Christian Leadership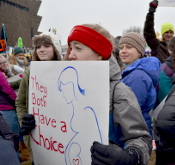 A natural outcome of faith formation – liturgy, retreats and service – is the development of Christian leaders. Students see the value in what they have experienced and step forward to pass it on to the younger students, truly building the Body of Christ.
Students play an integral part of all campus ministry activities, especially the school's liturgical events. In addition, a core team of juniors and seniors are trained to serve as team members for the underclass retreats.
Campus ministry is responsible for organizing and training adults and students to share their faith and gifts in order to create a sense of Christian community at Bishop Chatard.
Explore our faith-based leadership and mission trip opportunities
Babies Need Diapers Drive: Dec. 10-14
The Women's Care Center (which we serve each year on Community Service Day and other days throughout the year) reached out to us because they are in desperate need of diapers.
Women's Care Center provides free, confidential counseling, support and education to women facing unplanned pregnancies. Free pregnancy testing and ultrasounds help determine viability and dates (prenatal medical care and abortions not provided). They serve 26,000 women annually from 29 centers in 10 states, including Florida, Illinois, Indiana, Kentucky, Maryland, Michigan, Minnesota, Ohio, Pennsylvania & Wisconsin.
BCHS is holding a DIAPER DRIVE from December 10 thru the 14 for the Center. All sizes of diapers are needed. Bring diapers to Campus Ministry!
---
North Deanery March for Life in D.C.: applications due Dec. 14
Registration and fees for the Jan. 16-19 March for Life trip to Washington D.C. are due to your Parish's Youth Minister or to the BCHS Campus Ministry office no later than Dec. 14, 2018.
Details and registration form.
---
Summer Field Studies
All current Juniors and Seniors are invited to join students from Roncalli and Cardinal Ritter for Summer Field Studies 2019: one part academics, one part adventure, and one part retreat. Initial deposit is due Oct. 17.
Read more
---
Cardboard City October 2018
This event, held every other year, aims to raise students' awareness of homelessness in Indianapolis. BCHS students spend a night 'outside', experiencing life as a homeless person might.
---
Join us in praying for vocations
We have two "Vocations Boxes" at BCHS. One will stay here in the school and rotate between classrooms throughout the school year. We would like BCHS families to volunteer to keep the other Vocations Box (containing a cross and vocations prayers) for a week at a time. We will send the box home with your student on a Monday afternoon, and it will be returned the following Monday morning. If your family would like to keep the box for a week and commit to praying for religious vocations, choose a week below that is convenient for you. Thank you.
Choose your week
---
Retreat Permission Slips
Online parent permission forms for retreats are now available.
View the retreat page for details
---
2018/2019 School Theme
Useful Links
United State Conference of Catholic Bishops (usccb.org)
The Criterion, the Archdiocese Weekly Newsmagazine
The Archdiocese of Indianapolis offers an array of young adult ministry, college ministry, and numerous events throughout the year for those ages 18-25. See more at:
www.indycatholic.org
Resources for families
As tragic deaths happen around us, whether close by to people we know or in the world at large, we wonder how to make sense of the sorrow and loss. Youth especially often struggle to handle sadness they have or to console those they know who are feeling the loss deeply.
We offer these resources below as a starting place for any parent to recognize suffering and guide their child in coping with their feelings or depression.
If you, as a parent or student, have any concern or questions, please do not hesitate to contact someone at the school who you feel comfortable with. Anyone in the Campus Ministry department, the Guidance Department, a close teacher or administrator at BCHS will be more than happy to guide you. Other parents may also be a help.
Depression and Suicide Resources