Our Christian Service Program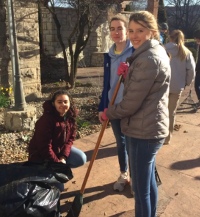 The goal of the Bishop Chatard Christian Service Program is to foster the development of empathy, awareness, social responsibility and Christian community. The Christian Service Program is modeled on the life and teachings of Jesus Christ. The program sets out plans and requirements for each grade level and offers Christian Service Immersion trips as another way to enter into service.
Christian Service Objectives:
Expose students to a variety of service opportunities so that they will discover their passions and remain committed to Christian service for life.
Enable students to work directly with marginalized populations and to have a deeper appreciation of the dignity of all human persons.
Give students an opportunity to reflect on their service through the lens of Scripture and Christian tradition.
View our Grade Level Requirements
Christian Service Immersion trips are offered as an additional way to enter into service. Simple living, community prayer and work, and daily reflection make up a Christian Service Immersion experience. In serving marginalized communities in our own city or outside of it, students continue to imitate Christ. Students are accompanied by staff chaperones.
View our Christian Service Immersion Trips information
We come not only to serve the poor, but also to be with them. Our concern for the dignity of every human being as God's cherished child directs our attention to the disadvantaged.
---
Recognizing 'Above and Beyond' Service
St. Francis Assisi Award
Each month, at an all-school Mass, the St. Francis Assisi Award is presented to a student or staff member who is living out the mission of service.
Nominations can be submitted to Libbie Steiner, Campus Ministry Director, at Lsteiner@bishopchatard.org.
Nomination form for the award.
---
St. Teresa of Calcutta Distinction
The St. Teresa of Calcutta Medallion is given to any student who has completed 75 hours or more of service during a given school year.
---
St. Lawrence Honor Cord
This honor cord is worn at graduation, signifying a senior who has completed 200+ hours (required and extracurricular) in their 4 years at Bishop Chatard. (Note: First students eligible for this award will be the members of the Class of 2018).